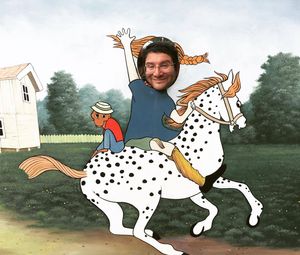 I don't care what you say, and I don't care what you think, and I don't care that this blog post may contain more than just a little whimsy. But I'm just back from my absolute, uncontested, favourite place in all of Sweden: Astrid Lindgren's Värld in Vimmerby. 
I love it there, I want to live inside the park. It's brilliant. 
If you've never been there, stop what you are doing, and get there now. 
What is this mythical värld you speak of, Ben? Well, I'll tell you. It's the best place in the whole of Sweden, that's what it is! It's the place where the books of Astrid Lindgren come to life. Where you can watch Pippi Långstrump wrestle with thieves, where you can see Emil of Lönneberga get a soup bowl stuck on his head, or see Ronja the Robber's daughter jump across Helvetesgapet... and then you get to meet them afterwards! Like actually meet the characters from the books and do stuff like skipping, or pumping water, or jumping in a haybarn. The ethos of the park is basically to just let children play, so everything is simple, pastoral and designed to spark imaginations and let kids be kids. 
I love that the park seems so uncommercial - there is no hard sell, no brands, no fast food (Although, we did still manage to spend a fortune, but on things like pillow cases and postcards. And the food there was good... like really good and not too expensive. 
New to me this year was the story Ingen Rövare finns i Skogen, where the toys come to life in Peter's grandmother's house. The toys, a fiskegubbe, a tin soldier, a clown, a policeman and a pilot were also the band who were pretty damn good. And it was a bonus to see them as non toys at the end of the day, jazz-jamming the Astrid Lindgren tunes at the gates of the park. 
I haven't been there for a few years. My older kids have got too old, and I was forced to have another child three years ago so that I had a reason to go back again. I think I can get a good five years worth of visits out of this one, and then I can only hope for more children or one of my older kids to work on the whole teenage parenthood thing. It'll be worth it for me to justify buying myself a season ticket. 
********************** 
If you've enjoyed this blog post feel free to share it!
I really enjoy blogging and if you really enjoy it too you can always 'buy me a coffee' by clicking on the button below! 
And while you're here, have a look around my website and find out more about what I do!