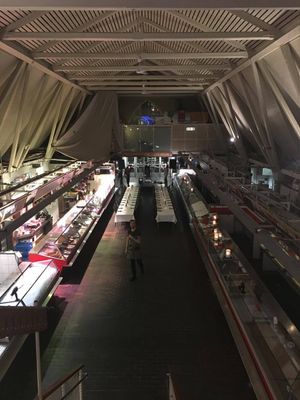 On Thursday night I found myself in Gothenburg. It's been a while, and although I was only there for less than a day, it was good to be back in a 'big' city with proper traffic and a bit of history. 
I travelled down with a magician called Fredrik who was also performing at the gig. He claims to be a magician, but despite his magic powers, he still needed to stop to buy petrol and use the GPS on his phone to find his way to the venue. Why he wastes his gift of magic on card tricks, I don't know. 
We were there to do a gig at a place called Feskekôrka (The Fish Church), the most famous place to buy fish in a city which sells a lot of fish. It's an amazing building, which looks like a church and sells fish - I guess that's why it's called the Fish Church, to be honest. It's run by a six-foot-something bearded Hipster called Johan, who couldn't possibly be more friendly if he tried. The walls of the restaurant were covered with trophies and accolades for both the quality of the food and his skill in opening oysters. (From what I could gather, he is a permanent fixture on the winner's podium of the Galway Oyster Festival). 
The gig was for a company that worked with paint with people from Sweden, Norway, Denmark, Finland, France and Italy. It was a big space to play and was quite cold, not only because of the weather, but also the trays of ice for the shellfish. I went in with a bit of energy and had a pretty good gig - I got clapped on the back by a Finn, a Swede and an Italian afterwards, so must have done something right. 
After the gig my old mate Kurt Lightner turned up. He is an American artist, designer, comedian, musician and all round good guy who lives in Gothenburg. He turned up in time for us to eat and needless to say that as a man with the words 'artist, designer, comedian and musician' in his CV, he didn't pass off the opportunity for a free meal. And what a meal it was! An amazing seafood buffet of oysters, salmon, prawns, mussels. Wow! Thank you Johan!
We watched Fredrik's gig while dining like kings - Again, did he use his magic powers to do anything for world peace? Make life a little easier for the downtrodden masses? Find a cure for cancer? No.. still with the cards! 
I stayed over at Kurt's and it was great to catch up - We haven't seen each other for a few years and while many things have changed he's still the same old Kurt. One of the things that he has done since I saw him last is to have started a company called Lions and Cranes which sell useful items with his designs on them - cups, trays, tea towels, that kind of thing.  Have a look at their website, and do some Christmas shopping there!  http://lionsandcranes.com
In the morning, we tried to get breakfast in a number of Majorna's most Hipster cafés only to discover that we had got up earlier than most Hipsters eat breakfast, so they were all shut. Instead we drank coffee at the 7-11. We said our goodbyes (Kurt is off to the States for a few months) and I walked to the station through a grey Gothenburg.  
Kurt had given me a couple of their best selling steel mugs, so I took this picture. (I couldn't find any lions, so you'll have to make do with just cranes.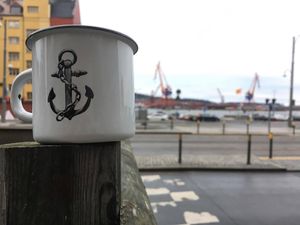 ********************** 
If you've enjoyed this blog post feel free to share it!
I really enjoy blogging and if you really enjoy it too you can always 'buy me a coffee' by clicking on the button below! 
And while you're here, have a look around my website and find out more about what I do!