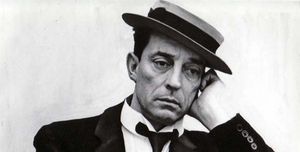 2018 is here like a kick up the bum, like a custard pie in the face, like a bucket of water tipped down the pants, like fingers slammed in a sash window, like brick after brick falling onto your head as you sit in the ashes and soot of the fireplace you have just fallen into from the collapsed chimney that you are supposed to be sweeping. 
If any of this sounds like tragedy. It isn't. It is joyous. 
This is slapstick - A celebration of the absurdity of life and the fact that as humans, however much we reach up towards the angels that we aspire to be, we are constantly dragged down by the apes that we actually are.
Kurt Vonnegut once wrote a novel called Slapstick, dedicated to Arthur Stanley Jefferson and Norvell Hardy (AKA Laurel and Hardy). The opening quote explains why:   "This is the closest I will ever come to writing an autobiography. I have called it "Slapstick" because it is grotesque, situational poetry -- like the slapstick film comedies, especially those of Laurel and Hardy, of long ago. It is about what life feels like to me."
Just before Xmas, some very talented local dancers, Gustav Udd and Mathilda Larsson, from a group called Folkedansteater asked me to help out on a dance piece they were doing for a thing called the Kulturgille. I can't take any credit for their brilliant dancing, but I had a really enjoyable morning crafting a few gags, teaching a couple of hat flourishes and adding a little pathos here and there. As well as making sure that when Gustav gets his head smashed into the bar by a Vampish Mathilda that we hear the bang and feel the pain. This is what the final piece looked like: 
Slapstick comedy and silent movies have always been important to me. I'm not sure when I first got into them; it may have been thanks to the BBC 2 6pm slot that showed black and white series. This was the time between the Kids' TV coming to an end and our evening meal being ready to eat. There was an endless run of Harold Lloyd and Laurel and Hardy shorts. The name of my company, Safety Last Productions, is a dedication to Harold Lloyd and his film of that title. If you've never watched the clock sequence in Safety Last, do yourself a favour and watch this: 
I think I got into Charlie Chaplin when I was in my late teens after watching Easy Street at the cinema, although I also found some reels of Super 8 film at my folk's house with the title 'Charlie' so we may have watched them in a time before proper childhood memories formed, a time when everything is remembered as though it was being screened via a Super 8 projector. 
Buster Keaton took me a little longer to get to know. I was probably already at university and got to see 'Young Sherlock' on the big screen. It was also around this time, that I went to the Lyric in Hammersmith and saw Blue Grassy Knoll, a Bluegrass band from Australia play a live soundtrack to The General. This is them: 
In most of northern Europe, there is a New Year Tradition that is quintessentially English, but that is almost unheard of in the UK. New Year's Eve in Sweden (And indeed Denmark, Germany, Austria, Switzerland and others) wouldn't be complete without showing 'Dinner For One' or 'The 90th Birthday', a short filmed version of a Vaudevillian standard. First performed onstage in the 1920s, then purchased, adapted and refined in the 1950s by Freddie Frinton and recorded for German TV in 1963, the sketch has entered popular culture with the catchphrase 'The same procedure as every year, James!' being used with wry Scandinavian and Germanic smiles throughout the year. 
Perhaps egged on by the joy of 'Dinner For One', I forced my family and friends to watch the whole of Chaplin's The Kid on New Year's Day. It's one of my all time favourite films and like most of Chaplin's films has tears and laughter in equal measure. In retrospect there are lighter films to watch with kids on New Year's day, but I'm glad to have given my children a fifty minute dose of culture, history and a film that pulls on the heart strings. As well as for them to have seen the brilliant performances of both Chaplin and Jackie Coogan. Here's taster: 
So that's the year started. Ready for the pratfalls and the sucker punches, and ready to celebrate them for the fact that they remind us we are human. Happy New Year! 
********************** 
If you've enjoyed this blog post feel free to share it!
I really enjoy blogging and if you really enjoy it too you can always 'buy me a coffee' by clicking on the button below! 
And while you're here, have a look around my website and find out more about what I do!