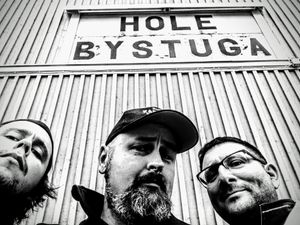 Henrik Källman and I are on tour. Very possibly the world's most ill conceived idea in the history of tours, but nonetheless, we are on tour, so suck it up! And it all kicked off on Friday. 
The tour is called The Kom i Form Tour, which roughly translates to 'The get into shape tour'. An idea that we are both very very proud of. The concept is that we put ourselves 'out there', ready to perform where you want for what you want to pay. And we'll play anywhere if the price is reasonable and there is an element of danger and fun in it: House parties, camping trips, at the local Bridge club or for prisoners rehabilitating into society. Adventure is the key!
The thinking was just to do some gigs to get up to speed after the summer and perhaps play places that you wouldn't usually find stand up and to audiences that wouldn't usually watch stand up. 
Gig number one was on Friday in a place called Malung, in Dalarna. Now Malung is a small place, and if I'm honest, the gig wasn't even in the centre of Malung, but on the outskirts of town in a place called Hole. Yes, literally, we were performing in a real Hole. 
Malung is a small place, where they are proud of the fact that they only have one red light. I come from the big city, where we judge a place as being small because it only has one red light district. 
The gig was at a Kräftskiva - a crayfish party - which mainly involves sucking on crustacea and drinking. Kräftskivor parties have a reputation for getting messy but luckily, we were dealing with the creme de la creme of Malung - The kind of people who can handle their liquor and their lobster. 
We performed our schtick with a great response along with fellow comedian Erik Axelson who brought the house down with his 'wolf' set, one Sweden's best routines. And it felt great.
We were on our way to getting back into shape, comedywise, at least. Meanwhile our bodies are definitely one step further out of shape with a giant slice of Västerbotten pie and a can of Norrlands Guld to follow the show and a Frasse's Burger on the road back. (Don't ever do Frasses, kids!)
We next flex our comedy muscles on Saturday in Katrineholm, but if you've got an event that you'd like us to come to, get in touch!
********************** 
If you've enjoyed this blog post feel free to share it!
I really enjoy blogging and if you really enjoy it too you can always 'buy me a coffee' by clicking on the button below! 
And while you're here, have a look around my website and find out more about what I do!