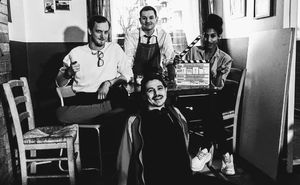 Back in September I wrote about getting a haircut with a view to impressing some SVT bigwigs with my clean cut looks. I realise now that  there is more to making it in television comedy  than just having a good haircut and that actually having a decent premise and a funny script is also important. I'm disappointed to say that the execs saw through my sharp looks and simply looked at the scripts and the idea on the page, not even once mentioning how well groomed I was. There wasn't even a hint that I was the best looking person in the room. In other words, they commissioned the sitcom on the strength of the idea alone. Outrageous. 
I was obviously distraught, but I told myself that the beautiful people like me have to overcome a double challenge in life. I should have just been grateful that they saw beyond  the simple, meaningless, shallow façade of my dazzling good looks. It is a curse that I have to live with. 
However, it was a thumbs up, the green light, the firing of the starter pistol (These are all metaphors, there was no starter pistol or green light shone in my face, although the TV execs all gave each other the thumbs up, smiling from ear to ear like kids at Drayton Manor Park and Zoo  - Or at least that's how I imagined that they made their decision after I had left the room). And we were good to go. Our sitcom had been commissioned. Pitcher På Paus, by Ben Kersley and Al Pitcher was going to happen. 
Getting the green light is a weird experience. Initially, there is an amazing feeling of relief that all the hard work and tension of developing an idea, writing and shooting a pilot, and preparing for the pitch has paid off. A weight is lifted. 
This warm feeling lasts approximately five minutes, when the reality suddenly dawns on you that you then have to deliver. Then the practical reality hits you full in the face - The reality of coming up with, and then needing to write, eight episodes not only replaces the weight on your shoulders, but doubles it. 
So we started writing. We wrote in Al's office, we wrote at home, we wrote via Skype as Al toured to the far flung corners of Sweden on his tour, and we wrote backstage when his tour took him to Linköping and Norrköping; We even wrote on a transatlantic flight back from New York. 
And a fair old amount of writing was done in a glass walled office at the production company Art & Bob under the watchful eye of Mike Syrén. Working with Mike has been one of the highlights of this project and I've learnt a hell of a lot from him about structure, efficiency of dialogue, and also that I should invest in the latest version of Final Draft. 
So it's been a journey, but now my bit is pretty much over for now as the cameras start rolling and the script goes from page to image. From here it's over to the director, Adam along with the cast and crew. I think they're going to do a great job and I can't wait to see the results. And you can too. On a TV screen sometime before the summer.
Follow the fun on social media via the hashtag #pitcherpåpaussvthumor
********************** 
If you've enjoyed this blog post feel free to share it!
I really enjoy blogging and if you really enjoy it too you can always 'buy me a coffee' by clicking on the button below! 
And while you're here, have a look around my website and find out more about what I do!