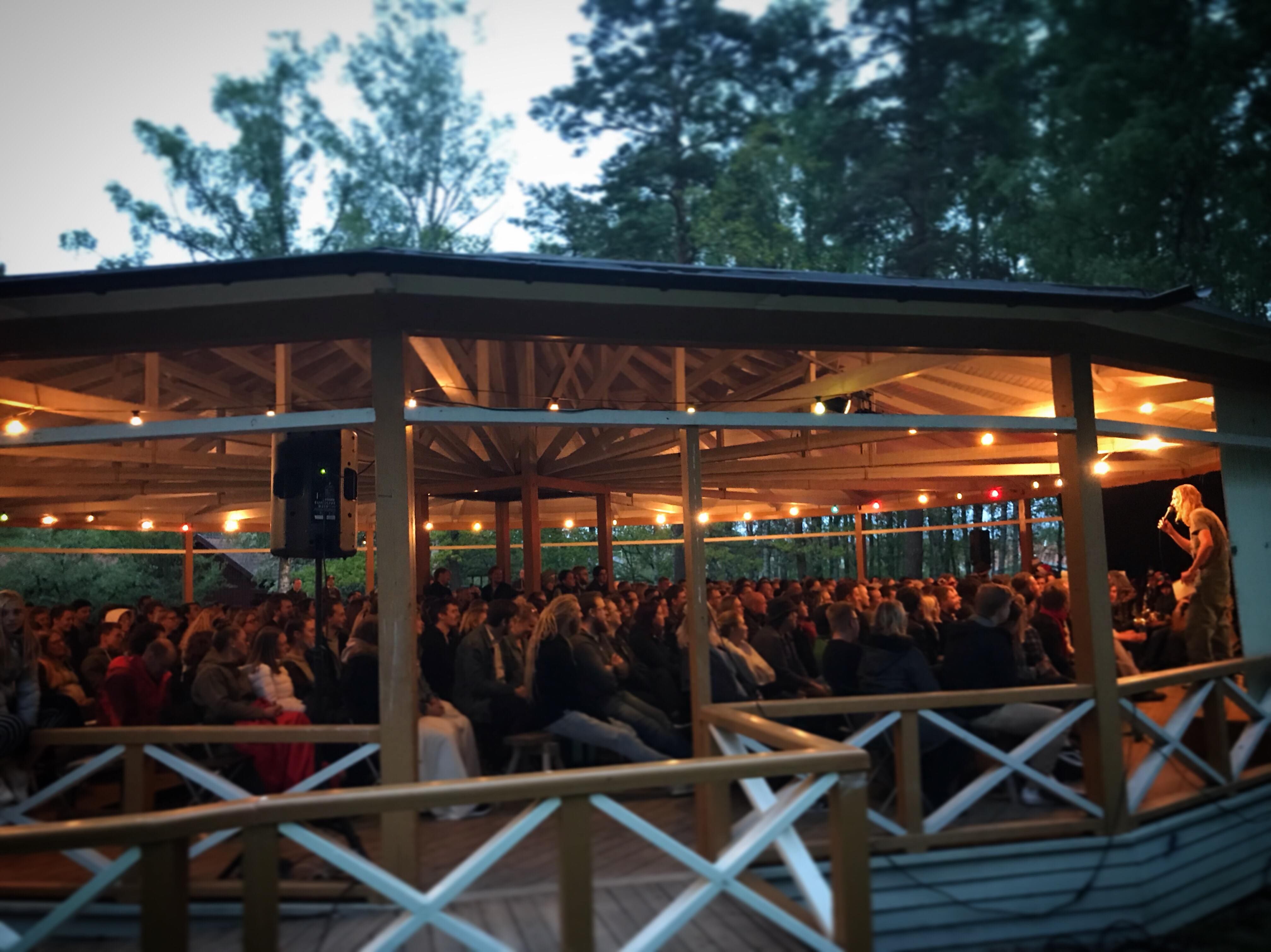 It was a funny old week last week, in more ways that one. I went to see some politicians from the culture department speak about their vision for Linköping's kulturliv. The event came to me as a bit of a shock as, until I saw the ad on Facebook, I was certain that Linköping Kommun had closed down the culture department. I went along and they made a good effort, dressed themselves with the trousers on the right way and no food spilt on their shirts. They spoke for a couple of hours, in which every word they said reinforced the image and reputation of how rich, vital, cultural and welcoming a city Norrköping actually is. 
I left the event, reminded that it is surely just a matter of time before they change the city slogan from 'Linköping - Where ideas become reality' to 'Linköping - Just not that kind of place'. I tried to speak to them, but was put in my place and reminded that I was simply a purveyor of low art. 'You are wrong' I was told. 'Comedian! Fool! Know thy place!' 
It's a lonely business, comedy, and I knew that it is my lot to battle with the knowledge that I work with an art form that, according to Linköping Kommun, is quite simply, not in demand.
In fact, it is so 'Not in demand' that, the next night I had to struggle with selling out Gamla Linköping dansbana with the largest audience the place had ever seen. That's life at the bottom for you. 
I was putting on a gig on the bandstand in Linköping's Old Town, a place where they have accurately recreated the atmosphere of a ghost town that has lost its appeal to ghosts. For one night only, with invaluable and irreplaceable help from Anders at Visit Linköping, who opened doors (metaphorically and literally), I  was bringing the place alive with an excited audience of young and old, student and professional and even some who had travelled as far as exotic Mjölby. 
They were here for comedy. And comedy they got. In buckets. 
We kicked the night off with some Balkan Brass, played expertly and with gusto by the Brureband, a group of local seventeen seventeen year olds who have decided to waste their youth on making music rather than taking drugs and mugging old ladies. The idiots. The audience were high on the (Non alcoholic) beer served by the ladies of Dahlbergs/Hilma Winblads who also helped with the accommodation (which I recommend!)
The atmosphere was electric, I MC'd with my wits on full throttle. There was back and forth, audience interplay and plenty of laughs. Then came Henrik Källman, my old partner from the Komiform tour and co-producer of this show - The last time we worked together we played in front of 25 pensioners in Eksjö, who gave us 132 kronor, two boiled sweets and a 15% discount card for dog food at the local pet shop. Henrik was great back then, but with almost 400 in the audience who could hear properly and use the toilet without help, he was excellent. 
Then came Elin Almén. It's the first time I've met Elin, and she has a growing reputation in Sweden for energy filled clever comedy, which she more than lived up to. And she really brought the house down with her stage presence and physical and verbal gymnastics. 
Interval. More Balkan music. A few jokes from me.  Then like a whirlwind, Marcus Berggren took the stage dragging a curly haired guitar carrying teenager behind him, like an orphan child that he had picked up from the gutter. Marcus told the audience that this boy was called Simon, he had spotted him and at L'Orient (As close as Linköping gets to the Star Wars bar at Mos Eisley), and now this was his chance to play guitar to a bigger audience than his regular crowd of five Finnish alcoholics wearing Nylon. He played a song, inhaled the atmosphere of hundreds of people focussed on just him and then left the stage a crumpled heap. 
Marcus returned, tore the place apart with 40 minutes of non stop anarchy, then brought the boy back onstage into the public gaze. 
"We're finishing with a Håkan Hellström singalong!" Marcus shouted "Whether you like it or not!". 
And like it, we did. Marcus wailed, Simon strummed, the seventeen seventeen year olds of Brureband jammed along, and the audience found their harmonies. Some of the small furry and feathered creatures of the forest crept out of the foliage, beguiled by the sound and to bear witness to what a piece of work is man. 
I went home with the sound of almost 400 people laughing and applauding ringing in my ears. That's how you do it. That's how you put on a show, that's what people want to see.
Put that in your politician's pipes and smoke it, Linköpings Kommun department of culture, and ask yourself, what should you really be supporting? Black and White Japanese films or comedy, a genre that has a legacy in Linköping via ten years of LKPG HA HA!, Ankan Johansson and Tage Danielsson.. Ask yourselves! … Reader, I think we all know how this story ends.
********************** 
If you've enjoyed this blog post feel free to share it!
I really enjoy blogging and if you really enjoy it too you can always 'buy me a coffee' by clicking on the button below! 
And while you're here, have a look around my website and find out more about what I do!