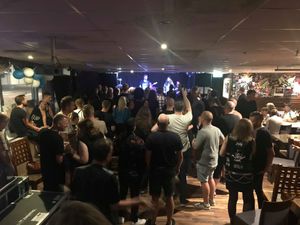 It's the end of an era. L'Orient has closed its giant wooden doors for the last time and headed east. I went to the final couple of live events there and amongst the drinking and music there was a sense that Linköping has hit rock bottom when it comes to being a town for live gigs. 
Don't get me wrong. L'Orient was a terrible place. As a venue, it had all sorts of things that could have been done a thousand times better. But that isn't the point. The point is that it existed at all; that it was the only place in town that literally anyone could get a gig. From international touring bands to seventeen year olds bashing out Oasis covers. I've poked my nose in there and seen everything from hip hop to drum and bass, to folk, to hardcore metal, to world music, to blues to Latin jazz to Japanese rock and roll. Very often all on the same night. 
As for comedy everything from TEAM AMERIKA who sold a handful of tickets to LOOP who packed the place literally to the rafters in a sweaty giggle-filled night of cacophonous silliness. 
L'Orient was run by Sami who the people of Linköping loved and hated in equal amount. That's not quite true, I think most people loved him, however much they want to dislike him. Sami has an infectious enthusiasm, a joie de vivre, and genuinely seems unstoppable. He has had his share of knocks and setbacks during the 20 or so years he's been running L'Orient, but is always there with a smile on his face which makes everyone adore him, against their better judgements. 
Officially, he says he is planning to start up a new bigger, better venue somewhere else, but where or when is still very much a mystery. We'll see. As a couple of people that I spoke to at the last concert said, Linköping is becoming a more and more difficult place to get things done in terms of independent live events
L'Orient was the place that I first performed in Sweden. In the summer of 2007, I saw a hand drawn flyer for an open mic night. I went down there, waited my turn and rattled off five minutes of thrown together stand up with a cabaret style finish. Applause, bow, exit stage left.
On the same bill was a cellist, a poet, a guy performing a yoik (I'm not joiking!) and a wailing girl playing a one stringed guitar. For me, the only way was up! 
I've also been involved in nights there which have sold out with the audience standing in the freezing rain outside half an hour before the show was due to start as Sami insisted on taking 20 kronor for every coat. 
At one point in time, a couple of years ago, I was even considering putting in an offer to buy the place (along with Gaphals, the music guys) but we were knocked back at the first hurdle when St Kors (A kommunal company) said that they didn't want to change the usage of the place from a restaurant that had live entertainment, to an entertainment venue that served food. Go figure. 
L'Orient's location was perfect for entertainment. Central, no neighbours, shops opposite, and a car park above. But not anymore. Rumour has it that St Kors (i.e. Linköpings Kommun) are planning to expand the car park down two floors. Vive le rock and roll! 
The point is not that L'Orient was an amazing venue, but that it existed at all. And now it doesn't. And it was the only place like it in Linköping. And now its gone, it will be missed. 
So adieu, L'Orient. Farewell.
********************** 
If you've enjoyed this blog post feel free to share it!
I really enjoy blogging and if you really enjoy it too you can always 'buy me a coffee' by clicking on the button below! 
And while you're here, have a look around my website and find out more about what I do!