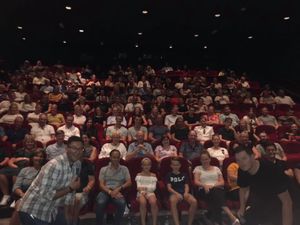 The Lund Comedy festival came and went, and I was there. 
I haven't been for a couple of years, but the festival has always been a highlight in the calendar. This year I was back, back, back and ready to catch some comedy. Here's a quick summary of what I saw and what I did! 
After trying to check in to The Grand, Lund's super posh five star hotel, and being told that I'd got the wrong place, I dealt with the reality that I'm just a four star kind of guy. The Lundia, round the corner and slightly closer to the train station, is a great hotel, perfect in every way, but next year, I need a show that gets me to The Grand. 
I checked in, then, festival mode, ran down to the KINO cinema to check that everything was set for our screening the next day. All good. Bumped in to a few people, some who I hadn't seen for years, others who I'd seen just a few days ago. That's the beauty of a festival, the ease with which you can catch up with people in the same business, congratulate them on their successes and then tear them apart in another comedian's company just minutes later. 
Lunch. Coffee. Chats. Catch ups. 
I introduced Al Pitcher's work in progress show. I did the fire escapes and toilets, he did the funnies. Spoilers: He delivered a hilarious hour, with over a year to go before his tour starts. With the sound of Al's applause still fresh in my ears, I went down to take part in this year's Grand Comedy Slam. I knew a couple of the people in my heat and met a couple that I'd never heard of before. It's a weird competition to take part in, as the first time you either see or hear the audience is as the door is opened and you go onstage. So you have no idea what kind of material the other acts have done, or what the atmosphere is like. I did my spot and I thought I did OK. .. But not good enough to go through. If it's any consolation the three from my heat that went through all made it to the final and two of them, Sverrir Marinosson and  Hanna Voog, came first and second respectively. Congratulations to them and small consolation to know that at least I was amongst decent competition. 
Later that night I was back in presenter mode and introduced Tom Houghton, fresh from the Fringe with his show about going to public school. He did well, even if the subject matter was completely alien to most of the audience of egalitarian Swedes who have never known the arcane violence inherent in the British school system from comprehensive school to Eton. For balance, I think they should have been forced to watch SCUM 
Saw a few more shows, Phil Wang in 'Philly Philly Wang Wang' and Luisa Omielan's show 'God is a woman and Jesus was a feminist' which were both really good. So nice to watch shows from comedians from the UK as you realise just how much more full of vitality the scene is over there. I also introduced Sofie Hagen and Jodie Mitchell's podcast which was also a joy to watch. 
But the main reason for being at the festival was to show our film, Big In Sweden. Ticket sales were good. The day before the screening, there were less than 10 tickets left which were snapped up well in advance of the 17.30 start time. This is the second time watching the film with an audience and again it was great to hear the laughs fall in the right places (all apart from one joke which seems to fall flat and one massive laugh which we'd never before imagined to be all that funny) 
We met some of the audience afterwards and the response was only positive, so once again it all feels worth it. I feel full of energy to take the film further to new audiences 
A few years ago, the last night of the festival meant late night drinking… But this year, I had one beer, then decided that I was too hot, too tired and that my four star bedroom at The Lundia was all my body and soul needed after two days of sun, giggles and a film screening. 
The next day, I travelled back to Linköping in style - with a first class ticket on the Snälltåget. The fine weekend weather broke; rain and thunder storms hit the whole of Sweden. The festival was over. 
See you again Lund, the city where the sun always smiles.
********************** 
If you've enjoyed this blog post feel free to share it!
I really enjoy blogging and if you really enjoy it too you can always 'buy me a coffee' by clicking on the button below! 
And while you're here, have a look around my website and find out more about what I do!