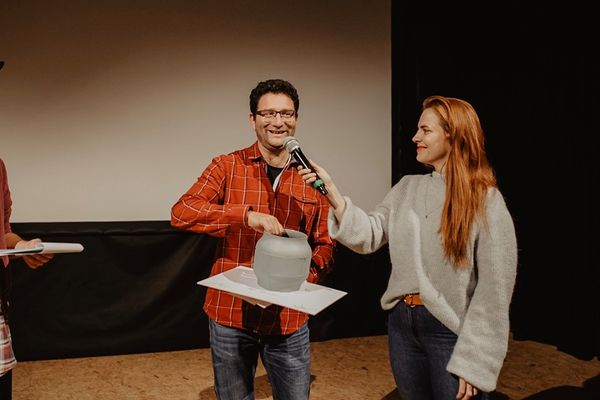 A week or so ago I went to Pilsen in the Czech Republic to show our film Big In Sweden at the International Road Movie Festival 
It's taken me a few days to get round to blogging about it because I have had to fight the childish urge to make repeated, puerile puns on the word Czech. I refused to do it. So obvious. So simple. You're better than that I said. Get a grip, I said. In the words of Ice Cube: "Czech yourself before you wreck yourself!" but there was no escape and as the title to this blog suggests, it was a futile fight…. better out than in, so feel free to skip the next paragraph: 
Friday morning, I left the house after going through my Czech list: Passport? Czech. Wallet? Czech? Money… Would I need cash or could I pay by Czech? Clothes? Czech shirt, naturally…  Arrive at the airport. Czech in. Through the security Czech and hope they know nothing of my Czechered past. See how hard it is to keep these puns in Czech?  
OK. That's it. No more 
I met up with Gustav at Prague airport and with a series of taxis, buses and shoe leather we headed into the night on the long road to Pilsen. I should add that we didn't take the most direct route from the airport to Pilsen, mainly it seems that there isn't one. We did take a little detour into a bar by the bus station to sample the Pilsner and watch the end of the England vs Czech Republic Euros qualifier which happened to be on the day we arrived. Central Prague had already been smashed up by the travelling English football fans, so we decided to just order a beer and a traditional Czech burger and chips, while loudly speaking Swedish to each other and trying to hide any indication whatsoever that I was English. England lost the game, but at least they won the fighting.
Next morning. Pilsen. Waking up in the hotel. 
I drew back the curtains to reveal a picturesque middle European city glorious under a clear blue sky and bright October sunshine. My room also had a view of the Pilsner Urquell Beer Museum. A theme was emerging….  What a coincidence that they should sell so much Pilsner in Pilsen. 
We wandered over to the venue. Although it's convenient and quick, Google Maps has taken half the fun out of arriving in a new city removing any danger of stumbling into the wrong part of town. My suggestion is that they should make it a rule that to qualify for the Road Movie Festival you have to navigate your way there by pre-smart phone methods. Just a suggestion. 
The festival was being held in a place called DEPO2015 a project that was part of Pilsen's legacy as the 2015 European City Of Culture. It was an old tram depo that had been converted into concert, music, performance and cinema venues, studios, small business units and a really nice friendly cafe/bar. I liked it. 
The International Road Movie Festival itself was really cool. In its second year, it was run by an enthusiastic and friendly gang who made everyone feel welcome, made sure you got to meet fellow filmmakers as well as get a bit of a flavour of Pilsen (Yes, I'm talking about the beer). There were around 15 films shown through each day from shorts to feature, documentary, comedy, fiction, low and high budget. Pretty much everything a film festival should be (including the beer).
Our screening was in the early evening on the Saturday. As this was the first screening to a non Swedish audience who had no real idea about who Al Pitcher is, it could have gone either way. I'm pleased to say that the audience enjoyed it, laughed in most of the right places and some of the wrong places and even had a few questions for Gustav and I after the film. Gustav wore his moose sweater which we convinced half the audience was the national dress of Sweden. 
So… Anything else to report about the festival? Oh yes! We won an award! 
There were three prizes - a diploma and a ceramic vase made by a local artist. A vase being the perfect prize for people travelling on budget airlines with hand luggage only.
We won the Audience Award for the Best Feature Film. A real honour and I genuinely got a little lost for words when I went up to receive it. I didn't quite know what to do, so I just hugged Marie Doležalová the, now adult, child star of the 2007 Czech film 'Dolls' who was presenting the award. It was all a little bit embarrassing but I've never won an award for a film before and following the actions of English fans in Prague that weekend, I think she took it as both a celebration and national apology. 
What a great feeling it was to know that our road movie really does travel. I left town the next morning with my head held high, with the diploma under my arm and the fragile ceramic vase filled with my dirty underwear in order to make room in my Ryanair friendly rucksack. 
Happy to report that the vase made it home in one piece and that it now has pride of place in the middle of our dining table. I can also say that a week later, I am still buzzing with the joy of the festival, winning a prize and the knowledge that all the hard work that we put into the film was worth it. 
Thank you Pilsen and thank you International Road Movie Festival! 
********************** 
If you've enjoyed this blog post feel free to share it!
I really enjoy blogging and if you really enjoy it too you can always 'buy me a coffee' by clicking on the button below! 
And while you're here, have a look around my website and find out more about what I do!