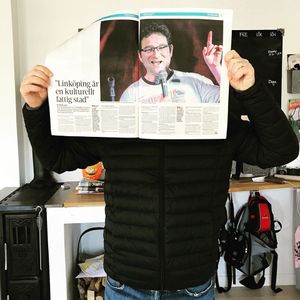 Like every artistically inclined soul out there, I have seen this period of social distancing not as an inconvenience, but as a great opportunity. My plan is to use this time to live life to the fullest.
In other words, wandering around half-dressed, unshaven and refreshing my emails every fifteen minutes, wondering why nobody is getting in touch. I'm  frenetically checking Twitter for useful information about the price of toilet paper and the imminent fall of humanity and then end up watching some really top satirical content. This makes me less worried about the pandemic and more anxious about what I have done with my life, and what I am doing with my life, and will any of my online content be remembered in years to come when people look back on the dark days of the pandemic. I quickly and emphatically come to the conclusion that they probably won't. 
And in the midst of all this, as a reminder of the old days of a functioning society, a society that cherished analogue media, a pre Corona interview I did was published in the local newspaper.  It carried the disclaimer that 'This interview was done before the Corona outbreak in Östergötland' which serves as a caveat for my answers that may well seem totally callous and flippant in the light of the impending tragedy. Or that the newspaper was making their excuses for having found the one self-obsessed idiot in the village who was totally oblivious to world events, and having taken the photos, they had no choice but to go ahead and publish his ill advised answers anyway.
My answers were ill advised regardless, but pre-Corona, I was merely playing the whimsy card. After Corona they seem glib.
In decades to come, survivors of the human race may sift through the remains of our civilisation and find this tattered newspaper as the last clue to how people used to live. How much weight will they place on my answer that I dream of being able to buy three baked potatoes for 12 kronor, or that my life's goal is to embroider a life size depiction of the Battle of Verdun?
If you subscribe to Corren, click here and read it online. They could do with the ad revenue.
If you don't then you can expand the pictures below and read it. But try to avoid reading the questions, as only the answers are my intellectual property.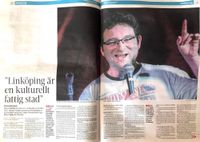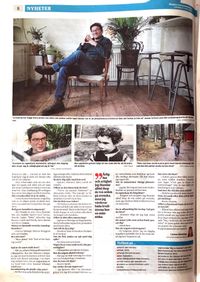 ********************** 
If you've enjoyed this blog post feel free to share it!
I really enjoy blogging and if you really enjoy it too you can always 'buy me a coffee' by clicking on the button below! 
And while you're here, have a look around my website and find out more about what I do!