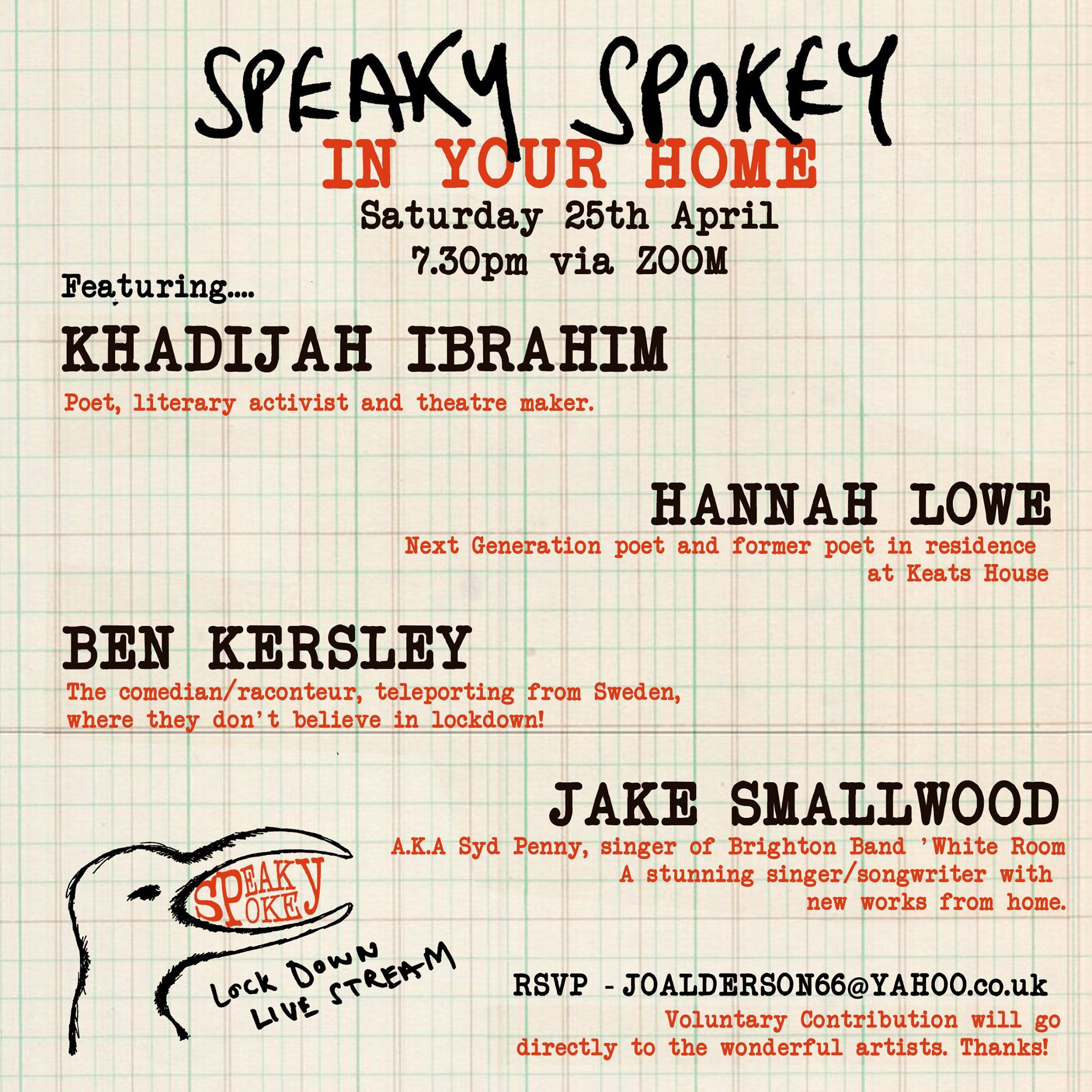 I did something pretty exciting on Saturday. I was invited to take part in a live Zoom event for Speaky Spokey. 
Speaky Spokey is a spoken word event that usually takes place with a physical audience in a real physical venue in Brighton. It's run by some old friends of mine, Colin Grant and Jo Alderson. Because of Corona and the strict lockdown, they have thought outside the box and are now running the events live via Zoom.
It may not be quite the same as squeezing into a pub in Brighton, but the advantages are that the show reaches a much larger geographical area without having to even put your shoes and coat on.On Saturday, the performers were in Brighton, Leeds and London, with myself in Sweden and the audience all over Europe and the USA. 
I was in good company with poets Khadijah Ibrahiim and Hannah Lowe and musician Jake Smallwood. And the evening was hosted with aplomb by Colin. 
I was asked to speak about Sweden and the Corona lockdown that isn't. You can either listen the audio from the show by clicking on the image below, or you can read the text which follows in bold. 
Hope you enjoy it!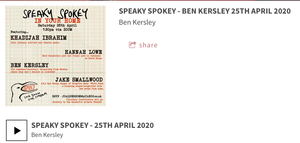 I want to start by thanking Colin and Jo for inviting me onto Speaky Spokey tonight and getting the chance to speak to a worldwide audience. So good morning, good afternoon and good evening! Howdy! Aloha! and G'day! 
Hello to my mum, dad and sisters, who are also tuning in tonight.  Happy to say that this episode of Speaky Spokey is what we're doing instead of a family get together this year. Hello mum and dad. I'm saying hello to them although there is a very high chance that they haven't yet figured out how to log in to this Zoom meeting yet and are most likely sitting in their kitchen shouting 'I've clicked it already! It's not working! I told you I've clicked it!' Only to realise that they have confused the computer with the microwave again. 
Colin and Jo have asked me to ask you to write any questions you may have about Sweden and the non-lockdown in the chat and I want you to know that I will respond to these questions in much the same way as Donald Trump responds to questions at his press briefings. 
Trump has been a real inspiration to me during this time of Corona. Like him, tonight,  I will hold forth, speak with confidence and authority. But please bear in mind that my opinions are rarely grounded in facts, figures or science, and that I may very well be making it up as I go along. If there's a sniff of doubt about what I am saying just remember that I am doing a VERY VERY GOOD, powerful and tremendous job. . Just remember. This is about me. Not you. 
Let's raise a glass of bleach to that. 
So what's life like with the lockdown that isn't? 
Firstly,  a trigger warning: 
A couple of times over the last week or so, I've been speaking to friends in England, talked about what I've been up to during the day and watched as their faces collapse, their brows sink, their complexion turns grey and a look of jealousy and longing fills their eyes. 
Simply,  by mentioning everyday things we do, like popping over to the pub to meet friends, going to the park for a couple of hours, waving the kids off to school.. .. You're all doing exactly that face now.. Was it something I said? 
There's no police controls here, and on the whole we are free to do what we like as long as we do so responsibly. Although  burning down 5G mobile phone towers and injecting bleach into your lungs are frowned upon here. 
You have to understand a little about Sweden. This is a big country where people are very good at following the rules. Also, Swedes aren't generally over effusive or touchy feely.. 
While the US has got Donald Trump, the wrong man at the wrong time, in Sweden we've got the opposite, we've found our own unassuming hero in the form of the state epidemiologist Anders Tegnell. A tall avuncular man in his early sixties, he looks a little like the quiet guy in the corner of the pub who you would be directed to if there was an argument about the pros and cons of the narrow gauge railway network over that of the standard gauge. There's a lot of corduroy and woollen wear at the press conferences. And on the whole people trust him. And the main reason for this is that, again in complete contrast to Trump, he speaks with great humility, self deprecation and a healthy degree of self doubt. He has also mastered the Swedish knack of never really making a decision that can be pinned on him. 
When asked by a journalist 'Will this work?' his answer is 'We don't know. We'll only really know if we did the right thing when we look back in a year or two'. The main thrust of his argument is that everyone is going to get Corona at some point, so as long as the healthcare system can cope (and so far it is more or less coping) and we try to protect the most vulnerable, we should try and spread out the infection at a manageable rate. He could be wrong, he could be right.. We'll see. 
At restaurants and bars (Yes, they are open) you can only sit with your own group, i.e. the people you turned up with. In a small town that's difficult because you inevitably bump into friends. So you wave, leave the pub together and go  to another pub where you bump into another group of friends, leave that pub together, go to another pub as a single group and by the end of the night return to the original pub as one massive group of people all completely shitfaced and forgetting all the rules of social distancing. 
Out and about the social distancing rules have meant people are being more friendly that they ever have been in the past. I've lived in my house for over a decade and every morning without fail I walk past the same neighbour out walking her dog. For the first two years, she avoided my gaze completely, it took another three years for her to get comfortable with eye contact and only in the last 12 months has she afforded me a smile. Pretty much on the day that the government introduced the new rules about social distancing, she stopped me for a little chit chat, and we chewed the fat for a few minutes as her dog sniffed around my ankles and this amiability has continued. I can only suspect that she is desperately trying to infect me as revenge for all the years of me disturbing her quiet contemplative morning walks 
We're supposed to avoid shaking hands. The other day, as I was dropping my 5 year old off at nursery, the dad of a new kid introduced himself outside and shook my hand enthusiastically. He seemed like a nice guy, but I was thrown by what just a few weeks ago was such a normal thing to do. I said 'Nice to meet you', then ran inside and scrubbed my hands with soap and water and a good squirt of hand sanitiser. Then reported him to the nursery staff and had his child sent home. 
My father in law has become an expert on Corona. Albeit one full of contradictions.  According to him, he is in a risk group and at the same time, he absolutely isn't in a risk group.  An arm's length from other people is more than enough, but two metres is nowhere near enough. It's just like getting a flu for a day or two, and also that it will kill everybody. According to him, we may all have it already, but the good kind of Corona, rather than the bad kind. 
When the first news of Corona first started filtering into the rest of the world, I was up in the very far north of Sweden, gigging in the border town of Haparanda. This is pretty much as far as you can go, the end of the road, finished . I'm talking geographically, by the way, not as a metaphor for my career as a comedian. 
Haparanda is at the point on the map where Sweden meets Finland and it really is worth a visit, if ever you happen to be passing (Sidenote, nobody is ever simply passing Haparanda).  For a quarter of the year, the people there live in perpetual darkness, for one quarter of the year they live in perpetual daylight. And for the remaining two quarters, it's like a long drawn out dusk and dawn blended into a shade of grey. 
Over the border, in Finland, there's a different time zone, a different currency, different laws and a different language. You wander over, sing some karaoke and then wander back. That's what they do there. Or at least they did until Finland closed everything down. Now the Finns sneak over the border to sing their karaoke. 
They have reindeer there, and ice and snow and it really is a beautiful place to visit. But because it's so far away from anything, the only people who go there are comedians on tour and very wealthy honeymooning Chinese couples who believe that if your baby is conceived under the northern lights, it will be a lucky baby. The hotel breakfast when we were there was full of angry Chinese couples, frustrated that the previous night had been cloudy and therefore Aurora Borealis and nookie free. There were whispers about the emerging epidemic in Wuhan and any cough was met with stares and a shuffling of chairs. 
As things started to heat up in Sweden, the north was one of the first and worst places to be affected. Not because of the Chinese tourists, but more because of the Stockholmers who had been on skiing holidays in northern Italy, which they followed by more skiing holidays in northern Sweden where they partied like there was no tomorrow. Which for some, was indeed the case. 
For the comedy world, it became clearer and clearer that things would have to change, first the government added a restriction of 500 people in one venue. Everyone made jokes that comedian X or comedian Y wouldn't be affected as they would never sell that many tickets anyway. How we all laughed. Then the limit was reduced to 50 and everyone made jokes that comedian X or comedian Y wouldn't be affected as they would never sell that many tickets anyway. How we all laughed. Some gigs are still going ahead even now, limiting the number to 49 people including all the people onstage. But they are struggling to sell more than a handful of tickets. The appetite for live entertainment has gone, and as I said earlier, the Swedes are not willing to break the rules that aren't really rules but just recommendations. 
I think we're doing OK so far in Sweden. People are getting ill and unfortunately the death toll is now as high as a couple of thousand. Although, in terms of deaths per million and where we are on the curve it is apparently comparable to other countries. They also think that the rate of infection is starting to flatten and that the population may be on the way to achieving herd immunity, even though herd immunity was not the primary goal of the Swedish method. 
We went out to the woods the other day to walk and barbecue some sausages on a fire. It was a beautiful warm day and we were not the only ones to visit that particular purpose built grill place in the middle of the woods (Yes, the council does provide purpose built places to barbecue in the middle of the woods here. Everyone took it in turns to grill their sausages and kept a good safe distance from each other. It felt good to be out in the woods, in the sunshine and fresh air. And we were all following the rules that aren't really rules but more like recommendations. The forest was lush and the sun shone bright in the cloudless sky, and the sausages were delicious. It felt good to be alive in the Swedish lockdown that wasn't 
You're all doing that angry, jealous face again.  Any questions?
********************** 
If you've enjoyed this blog post feel free to share it!
I really enjoy blogging and if you really enjoy it too you can always 'buy me a coffee' by clicking on the button below! 
And while you're here, have a look around my website and find out more about what I do!