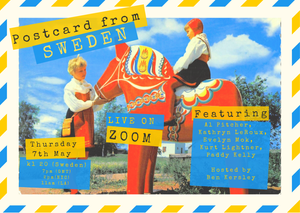 On Thursday  I ventured into the world of the Zoomosphere with a live event called 'Postcard From Sweden'. If you missed it, let's just say that you should have been there. Or maybe not.  
It was all going so well. I was working the settings, admitting guests from the virtual waiting room, muting the non speakers. I was playing the room, the Host With The Most, even though it was almost impossible to know how to play a room that you can't hear or really see properly. 
Ten minutes in, Paddy was doing his thing, and then it happened. .. This was a baptism of fire into what I quickly learnt is called a Zoom Bomb. Myself, my friends, members of my family and a good deal of strangers who I had never met, but did feel some sense of responsibility for, were watching two people performing what can only be described as a hardcore sex scene.
For a brief moment, I thought Paddy had gone rogue, but looking at his zoom window, I could see that he was holding his head in shame, then he popped up on the main screen again for a brief moment to plead 'It wasn't me! It wasn't me!' only to be knocked off the speaker view by the louder 'oohing' and 'aahing' from the zoom bombed porn.. 
Everybody reacted differently, but we were all watching, unable to turn away, from our little screen boxes. It was like a non complicit peep show. 
Eventually, I found the little window of the person who had hacked in and removed them from the meeting, but the tone was set for the rest of the night. We were now all united, having watched a porn video all together. It was like we had all been caught looking and even though we knew we should never talk of this again, it would unite us forever and be the only thing we would ever talk about, ever again. 
It has haunted me since. Partly because I have been trying to think what that person was trying to achieve. Why hack this particular Zoom meeting? And why use exactly that video, of all the shocking footage that there is out there on the net. I assume that it wasn't, the zoombomber themself that we were watching, in action. And if it was, was it the girl or the guy? 
So the first ever 'Postcard from Sweden' became an X-Rated 'Dirty Postcard From Sweden' and I have become an unwitting purveyor of online pornography. At least now, nobody can accuse me of having achieved nothing during the Corona lockdown.
This is the offending couple, edited to save your blushes. Worth observing is how we all reacted. Me - Stunned, like a rabbit, in the headlghts. Paddy, head held in his hands. Al, turning to drink, hiding behind his glass. Kurt wasn't even visible.  Evelyn, hilarity. Kathryn, laughs, picks up camera, laughs some more.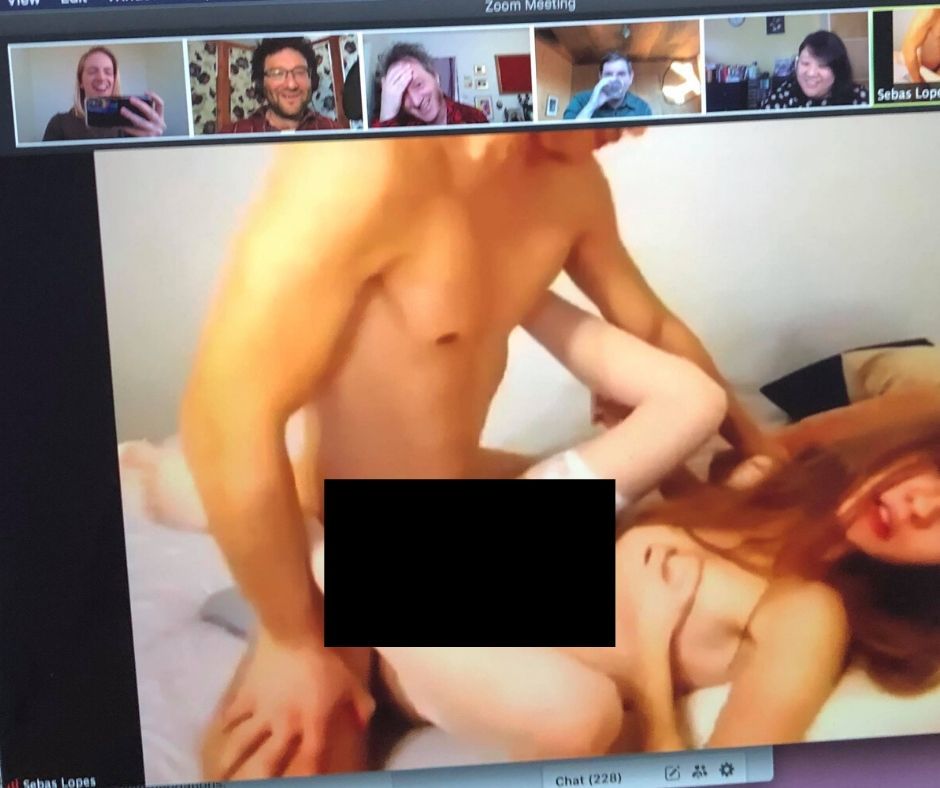 ********************** 
If you've enjoyed this blog post feel free to share it!
I really enjoy blogging and if you really enjoy it too you can always 'buy me a coffee' by clicking on the button below! 
And while you're here, have a look around my website and find out more about what I do!