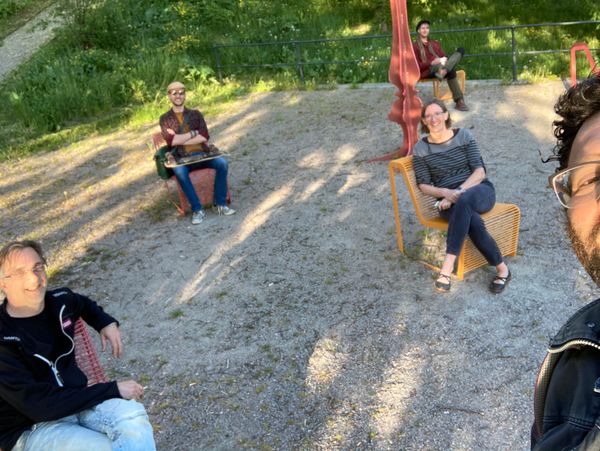 Last night was the first of the socially distanced comedy nights. And in many ways, it went as planned. 
A beautiful summer's evening, with a massive audience of 5 people, who got just over 30 minutes of bespoke stand up at a distance of 2 metres. 
As it was the first one, I made it deliberately hard to find. The place was a bit out of town, and I left it all a bit cryptic of how to find the place. Although I feel I did do my bit to promote the app What3Words, which I think is the most brilliant app there is. Partly because you can find any single place in the world very easily, without mucking about with map coordinates. EThat very 3 square metres is allocated its own 3 words. Making for some very silly place names… And that's what it's all about! Or at least that's what it should all be about! Last night's gig was at banks.flipper.payout. Although I most likely wandered into register.ember.stretch and even copycat.gross.lobster. Anyway, get the app, it's brilliant. 
I got to the gig 10 minutes before the start time, and it was a joy to see that there was an audience keenly waiting for it to begin. A small audience, but an audience nonetheless. That's been one of the oddities with doing this project. Usually when you put on a gig, the aim is to get as many people as possible along. With this, it's the opposite. I need to actively keep people away. (Although next time, I hope to get more than five people! 
I started at 19.30 on the dot by poking them all with my 2 metre long measuring stick. You have to keep audiences in line nowadays. I had written out a load of subjects that I could cover, and I think I covered about half of them, so it was also a good exercise in riffing and thinking on the fly. There was even an extra level of glamour and celebrity in that I has written out my list of subjects on the back of an unused (due to Corona)  Magnus Betner 'Men Gud' poster. So you know, it was all about degrees of separation to a bigger show that also wasn't happening. 
Looking forward to the next one which will take place one evening next week. Just want to check what the weather will be like and then I can start promoting it. 
I've also been doing my Twitter safaris. And if you are a twitterer you can follow me at @benkersley and see the latest safaris by clicking here for Trädgårdsföreningen and here for Lambohov and Mjärdevi. 
That's about it for now…. Still working out how to do live comedy in a time when you can't get an audience.. but (and thanks to Kultur och Fritids) I am paddling around in that pool.
********************** 
If you've enjoyed this blog post feel free to share it!
I really enjoy blogging and if you really enjoy it too you can always 'buy me a coffee' by clicking on the button below! 
And while you're here, have a look around my website and find out more about what I do!