It's been a nice, varied week for voiceovers.
On Tuesday, I was doing a chic, sophisticated, dare I say it, sexy voice for a leading brand of women's perfume. Today I was playing three characters, a commanding officer, a gunner and a loader, for a simulation for the Swedish Armed Forces. It's unusual with voiceover that you do anything hands on - With the perfume voiceover, I came out of the studio smelling just as much like a man in T-shirt and jeans as I did when I walked in. If anything I probably smelt a little bit less delicious after 40 minutes in the enclosed space of the sound booth. 
When it came to the military voiceover, a couple of real life soldiers turned up, one of them casually wheeling in a flight case which contained the so called Carl-Gustav grenade launcher and a couple of rounds of ammunition which may or may not have been live. We watched the video and this baby could fire shells that could crush a metal container like a shoe box.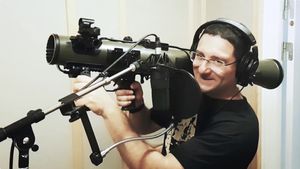 Not wanting to get into trouble with the powers that be, or to get on the wrong side of the law and be court-martialled for a breach of the official secrets act, I asked if I could get a photo with it... .. I got a resounding yes and even got to do a couple of takes of the script with the weapon on my shoulder. I know it's a bit boyish to want to hold a big gun, but come on, how often do you get to hold something like that? Kaboom! 
The voiceover went really well and as an extra bonus, it felt like I was following in the footsteps of every voiceover's idol, Stephen Toast of Toast of London. Here he is recording a voiceover with Clem Fandango for the Royal Navy.
And here's me: 
Footnote: As the Swedish Army have a policy to only sell weapons to countries that don't get involved in war, I am not glorifying violence. If anything I am glorifying non-violence!