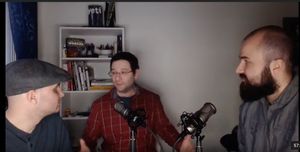 I'm on a podcast - This time for real. Or am I just doing an impression of Albin Olsson doing an impression of me?
The Pod in question is called Peking Humor - And its nothing to do with China, as those from Östergötland will know. Peking being the nickname for Norrköping. With a little bit of googling, the reason for this apparently dates back to a lecture given to some teachers back in 1910 in which the eminent lecturer Sven Hedin convinced the crowd that the Chinese for 'Northern town' was Peking. And the name stuck.
At least that's the official story according to the Norrköping Tourist Office. I think they could have come up with something a bit more racy involving opium, tea ceremonies and gunpowder. If they want me to rewrite it, I'm available!
So, the pod was fun! - Broadcast live on YouTube and available as audio wherever you listen to your podcasts. The picture above is a screengrab from the YouTube stream. On the left Joel, whose house we recorded, me in the middle and on the right, sitting so close to the camera that the perpective is messed up and it looks like his head is enormous, Kerim.

We covered the lot - Innebandy, walls, Sverige Demokraterna and North Korea's chances in the Olympic women's Ice Hockey. 

Give the pod a listen!
 
********************** 
If you've enjoyed this blog post feel free to share it!
I really enjoy blogging and if you really enjoy it too you can always 'buy me a coffee' by clicking on the button below! 
And while you're here, have a look around my website and find out more about what I do!