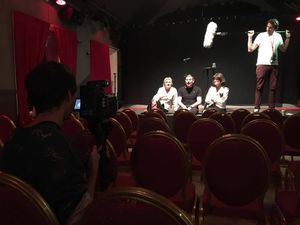 For the last few months I've been working on a film project with stand up comedian, Al Pitcher. I can't go into too much detail about it yet, but needless to say, it's been loads of fun so far and I think it'll be amazing. As I say, at the moment, it's all a bit hush-hush, so no questions please (unless you have loads of cash to offer in exchange for a credit on the film).
Last week, we went out and filmed the pilot, which if all goes to plan will give us the chance to film it properly next summer. Again, no questions please (unless you are an international film distributer who is looking for a film about Sweden) 
And the good news is that the pilot went well. A nice smooth shoot which, over 36 hours, took us to such glamorous places as Linköping station, Mjölby, Boxholm, Skänninge and Vadstena. Imagine those names on the back of a tour t-shirt! 
Lots of great moments, but mainly a whole lot of fun to work with Al and the crew, Gustav and Kim. 
We ended the second day with a gig at the Vadstena Nya Teater, where we were given a brilliantly warm welcome by Eva and Malin who run the place and greet the audience as their alter-egos Vera and Ines (Pictured above, chatting to Al).
Al did about 30 minutes of largely improvised material about where we had been filming which was some of the most hilarious stand up I've seen. It was everything that stand up should be - unique to the time, place and audience. This was followed by a second half which was a run through of his tour show, Sverige Syndrome, with call backs to the first half. If this test run is anything to go by, the tour itself will also be hilarious.
It's really exciting to have started the production process properly and looking forward to seeing the rough cuts of the pilot - Which for the time being is still secret (unless of course you are well connected in the film industry and are looking to finance a ground breaking film set in Sweden) 
********************** 
If you've enjoyed this blog post feel free to share it!
I really enjoy blogging and if you really enjoy it too you can always 'buy me a coffee' by clicking on the button below! 
And while you're here, have a look around my website and find out more about what I do!