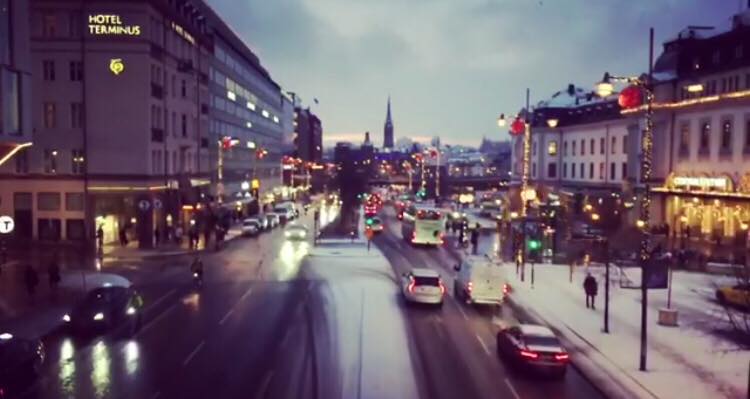 I did an early morning voiceover yesterday.
I was in Stockholm for a full day of bashing out ideas for various film and TV ideas (i.e. drinking coffee on a sofa while trying to make a silly ideas seem viable, and serious ideas become silly enough to be viable). The only time I could fit in the recording was first thing, just after the studio opened.
It was a beautiful snowy morning and I plodded through Stockholm as the city came to life and the sun reluctantly rose over the skyline. I was early and hungry, so popped into a cafe near the station for a quick breakfast (sandwich, juice, coffee and banana for only 49kr). I wolfed it down and watched the flock of commuters rush by with a soundtrack lovingly selected by Spotify - A soundtrack that is generally good, but one that is corrupted by Spotify's interpretations of my listening algorithms, which every now and again lets in a horrible pop tune that my kids have forced me to listen to while I am driving them around. 
When I got to Online Voices' beautiful new studio in Kungsbro, my stomach started rumbling. I had eaten too quickly and I realised I should have sat for five minutes longer and let my food go down. 
We began recording and all went well, a nice smooth read about Stockholm's schools with an allegory about a cat and an elephant (Don't ask!). Just as I was getting into my stride, the mic picked up the rumble in my tum. 
I'm fairly certain that between sound engineer, Per, and myself, we would have spotted all the rumbles, there is always a slim chance that one or two may have got away. If you ever end up watching a video in English about school choice in Stockholm, turn the volume up extra high and listen for the rumbles. I'm 99.9% sure you won't hear any... but if you do, let it be a reminder that you should never rush breakfast! 
********************** 
If you've enjoyed this blog post feel free to share it!
I really enjoy blogging and if you really enjoy it too you can always 'buy me a coffee' by clicking on the button below! 
And while you're here, have a look around my website and find out more about what I do!