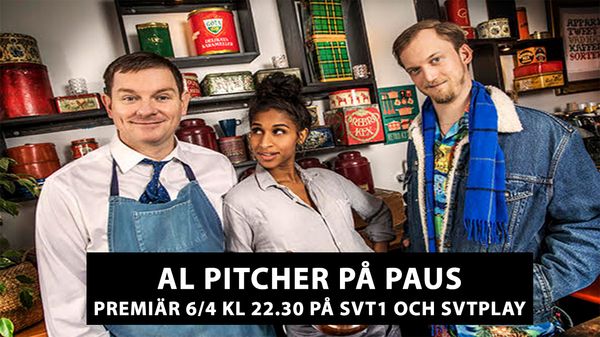 It's a weird feeling. .. But our sitcom is finally going to be broadcast on proper telly. Thinking back, the first time Al and I discussed this idea was probably two and a half years ago in a cafe in Stockholm Central Station. The original idea has been torn apart, chewed up, spat out, reassembled, remoulded, taken apart again, thrown together, screwed tight, fine polished and finally shown the light of day. And funnily enough it now looks fairly similar to the original idea. In parts at least. 
So this Saturday night, at 22.30 on SVT 1, we are hoping that the fine people of Sweden tune in to our sitcom 'Al Pitcher På Paus'. Laughter is the goal, and we will deal with the love or hate as and when it comes.. Just praying we don't get ignored. The show is on after 'Das Boot', so let's hope there's something that appeals to fans of wartime German drama to roll over to boost our audience figures. 
Either way. There it is. My name in black and white. Manus: Ben Kersley and Al Pitcher.
Here comes a little taster too - Tell your friends, tell your enemies and let me know what you think
********************** 
If you've enjoyed this blog post feel free to share it!
I really enjoy blogging and if you really enjoy it too you can always 'buy me a coffee' by clicking on the button below! 
And while you're here, have a look around my website and find out more about what I do!