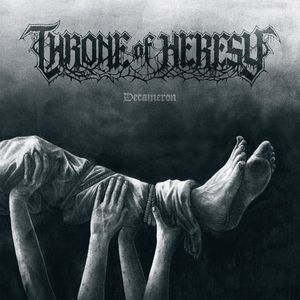 Remember how I'm always going on about how I'd like to make it big in the world of Death Metal? You know, how it's been a dream of mine since childhood to appear on a record that appeals to Death Metal purists while flirting with the more edgy genre of Melodic Black Metal? You know! You do! I'm not making it up! 
Anyway, that dream is a little bit closer as the first press coverage is starting to happen for the album 'Decameron' by Throne of Heresy where I appear on a track called 'Liber Secretorum'. Oh yes! 
There's a nice long interview in Metal Bulletin Zine with Thomas Clifford, the vocalist from the band, who kindly name checks me. Click here to read it
Album to be released in November, so pre-order now from The Sign Records with a taster track Siege of Caffa already released on Spotify. And as a little taster of what I do on the album (minus the music) here's a little clip from the recording session. Rock and Roll!
More bands should use voiceover artists - Just look at Vincent Price and Michael Jackson's Thriller - So I'm available for your album! And I'm not limited to Death Metal!
You can listen to my demos here (Or by clicking 'VOICE' in the menu) 
********************** 
If you've enjoyed this blog post feel free to share it!
I really enjoy blogging and if you really enjoy it too you can always 'buy me a coffee' by clicking on the button below! 
And while you're here, have a look around my website and find out more about what I do!