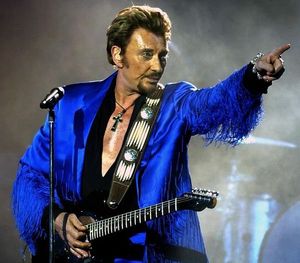 And so, adieu, Johnny Halliday. Au revoir, l'Elvis français. 
I only ever listened to the music of Johnny Halliday once in my life. It was shortly before I ran away from the circus. I won't say that the music of the Frenchman made me quit life on the road, but I think he definitely made up a large part of the soundtrack of me quitting. 
Back in 1992 I was in a small Basque village in northern Spain with a plan to hitchhike my way along the coast. (Remember the days when people used to hitchhike?). In the main square a group of men were setting up a Big Top for a circus. They were speaking French, so I got chatting away. (Remember the days when you got chatting to French strangers?). My mind filled with romantic ideas of joining the circus, travelling the world and strange love triangles between myself, a dwarf and a bearded lady. (Remember the days before the Internet, when such things really did require imagination?). 
Before I knew it they'd signed me up. Bed, board and travel. Perfect. And I would be working at a circus! 
Once the big top was up, I was quickly given my first and only job. They handed me a shovel and pointed me away from the bright lights and adoring audience and towards the animals. There were camels, horses, a donkey, a monkey and three Vietnamese pot-bellied pigs. And my job was to use the shovel to pick up their shit. If I had any questions, I should just ask Jean-Pierre who had just been promoted from the job of shit shoveller.
I got to watch the shows, my heart sinking every time one of the horses did a poo in the ring, knowing that it would be my job to clear it up after the show. I learnt how they scammed the public at every show, selling lottery tickets in the interval. They used to bring on the prizes - First prize, a state of the art television, so big that it was a struggle for Jean-Pierre to carry onto the stage. They sold a lot of tickets, but nobody ever won that TV... Just as well, as I also knew how the box was actually empty and struggling with the weight was just as much an act as the rest of the show.  
While the artists of the circus went off to their luxurious caravans, I was left with Jean-Pierre to keep an eye on the animals. I lived on a diet of Fabada Asturiana, a bean stew, which I gingerly ate while the pot-bellied pig nibbled at my trousers. Every meal time Jean-Pierre would change for dinner by putting on his leather jacket with tassles on the sleeves and a picture of Johnny Hallyday, the French Elvis, on the back. He had rows of cassettes of Johnny Hallyday concerts and albums. and as one tape came to an end, he would lovingly take it out, put it back in it's box and click another tape to play. 
After three days of this, he said to me "Do you like Johnny Hallyday? J'adore Johnny Hallyday! I love him!"
I slept in the cab of one of the lorries, in that little cubby hole behind the seats. Jean-Pierre lived on the other side of the wall and when he wasn't snoring, all I could hear were the strains of Johnny Hallyday.
My plan was to travel with the circus, but we hadn't moved from the spot where I had filled my first shovel full of shit. After a week, the police knocked on the window of the cab at seven in the morning and asked when we would be moving our animals and big top from the main square. I didn't know when we'd be moving, but understood enough to know that the permit had run out a few days before. I crept out of the cab, packed my bag and snuck away to the bus station making my break for Bilbao. 
Au Revoir Jean-Pierre! Au Revoir des animaux! Au Revoir Johnny Hallyday!
********************** 
If you've enjoyed this blog post feel free to share it!
I really enjoy blogging and if you really enjoy it too you can always 'buy me a coffee' by clicking on the button below! 
And while you're here, have a look around my website and find out more about what I do!