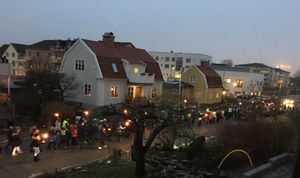 School's out. And as with every year, the kids parade the streets with burning torches. Twelve year olds in charge of fire. The parents are never invited to what happens when they get to wherever they get, but I have a pretty good idea how these things end up. 

Last year I made this video which dares to say what we all suspect goes on.
********************** 
If you've enjoyed this blog post feel free to share it!
I really enjoy blogging and if you really enjoy it too you can always 'buy me a coffee' by clicking on the button below! 
And while you're here, have a look around my website and find out more about what I do!