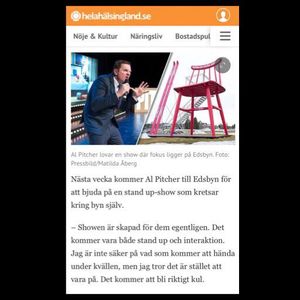 The excitement is starting to build. It's almost time to hit the road and start filming phase two of a project that first saw the light of day just over a year ago. Yes! This time next week, I'll be in Edsbyn looking at a giant chair, bandy club and a pair of skis.
I realise that when most people talk about fulfilling a dream, or setting out on an adventure it usually involves mountains or jungles and places like Katmandu, but for me, it's giant wooden skis and Edsbyn. You have to believe me these skis are massive! 
So far everything is going to plan. I've just been out buying some bits of kit that we need for filming - A camera mount with a suction pod, extra memory cards and a new pair of headphones for sound recording. Tomorrow I pick up the car that Volkswagen are generously lending us for the production and in the last few days I've been speaking to the pillars of Edsbyn's press corps - Ljusnan/Helahälsingland and SRP4 Gävleborg (Bollnäs office) 
As all the pieces fall into place, it's a comfort to know that readers of Ljusnan, the leading newspaper for the Bollnäs and Ovanåker region (And I have to say, my absolute favourite of all the newspapers of the Bollnäs and Ovanåker region.. ) will have spent this morning thumbing through an article about our visit. Morning coffee, cornflakes and a picture of Al Pitcher. Oh to be in Edsbyn! 
What do we know about Edsbyn so far?: 
Chair (massive) 
Bandy Club (enormous) 
Skis (supersize) 
Bandy the sport (Unbeatable) 
Red Farmers (Larger than life) 
Knåda Sport (Incomparable) 
We get there on the evening of the 2nd May and then Al Pitcher has just 24 hours to put together a unique show about everything we come across at Idrottsparken. Easy.
See you at the gig (Tickets via billetto)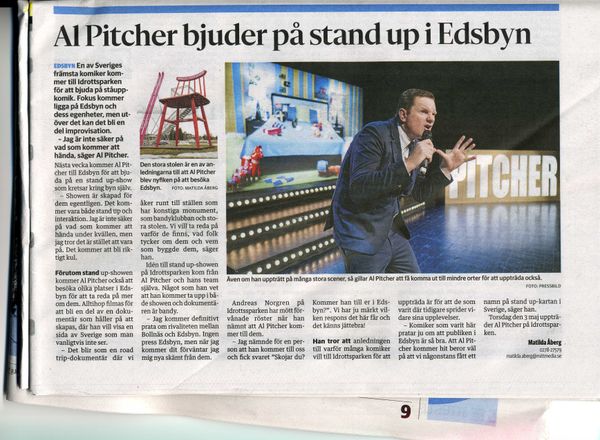 ********************** 
If you've enjoyed this blog post feel free to share it!
I really enjoy blogging and if you really enjoy it too you can always 'buy me a coffee' by clicking on the button below! 
And while you're here, have a look around my website and find out more about what I do!