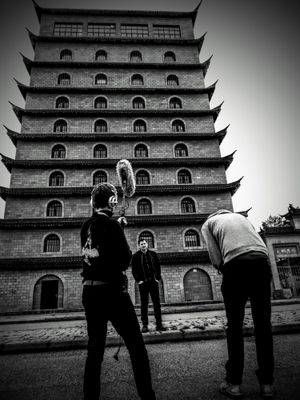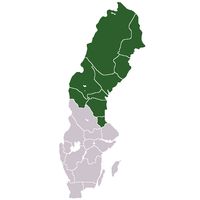 There's a lot of north in Sweden. In fact, it's mostly north. Just take a look at a map. When you think there can't possibly be any more north there's a whole load more north even further north. Last week, I went more north than I have ever been before: I found myself in Norrland which literally translates as North Land and it doesn't get much more north than than - although apparently it does, as I was only in southern Norrland. Look the map. I was in the bottom of the dark green bit, so still a hell of a lot of north, north of where I was, but technically I was in Norrland, which is the furthest north I've ever been in Sweden. 
I really wasn't sure what to expect. I was in the car with Al, Gustav and Richard to film the first leg of the documentary film project that has been bubbling away for almost a year. They were acting perfectly normally as though there was nothing weird about travelling closer to the top edge of the world map. They claimed to have been that far north before, but I think it was all just braggadocio. I didn't dare say it out loud, but as we whistled our way towards the Arctic, I couldn't shake the phrase 'There Be Dragons!'. 
As a responsible producer, I had packed a small red First Aid Kit with a few paracetamol and waterproof bandages, but I had a nagging fear that this would not be enough if we were to encounter any real life dragons. The whole dragon thing may seem irrational, but north of Uppsala there is actually a place called Dragon Gate. It's hard to deny that that there may actually be dragons in the north when they actually name a place after them! 
Dragon Gate is the kind of place that does nothing to put you at your ease. It's the kind of place that can generously be described as something of a folly, but should more realistically be spoken of in terms of a hapless misadventure of monstrous proportion. 
You can read more about it here on The Local, but just to summarise what Dragon Gate is, imagine an abandoned, derelict, walled, ten-storey-high Chinese pagoda in the middle of nowhere. And then imagine the depressing spirit of a 1980s, small town politician, enthusiastically selling the idea of this nonsense to get millions of kronor to build it, hanging over the place. The more you read about how it came to be dreamt up, built, neglected, sold and resold, you realise that if this can happen in the real world, the idea of meeting a real dragon is not so ridiculous. (Incidentally, we phoned the estate agent after we left and he quoted the current price as being "Under 50 million kronor" … Although how much under fifty million is open to speculation.)
This was no place to hang about and as we had some miles to put behind us, up country we drove! - To Tunneberga, where I almost caused a fracas by asking for some lingon with my herring; to Kilafors to see an enormous cock and finally to Edsbyn where we caught a first sight of the giant chair and skis… But no bandy club! A mystery that would be solved the next day! 
In the meantime, we were welcomed by the locals, first with fika at Richard's dad's house, where we were literally treated like royalty, being treated to coffee served in Nobel banquet cups.  
Then, it was on to the Skogens farm where we were made to feel more than welcome. At least until five minutes after we arrived, when I managed to have an argument with the head of the household over the difference between an elk and a moose. I said 'Elk' everyone else said 'Moose'. This caused a bit of an atmosphere that hung awkwardly in the air, but we agreed to disagree and move on, and that's fine, because I know I was right. And not that I am the kind of person to brew over something like this for days, but here's another article from The Local to back up my claim. 
Despite this, we all became friends and I was accepted into the Norrland tribe (i.e. they didn't make me sleep outside). My mind was put at ease that there were no dragons in the woods. So nothing to worry about apart from the bears and the wolves and that giant cock in Kilafors. 
The next day was a full day of filming and gigging…. more of which in future blog posts!
Meanwhile here's a photo of that big cock.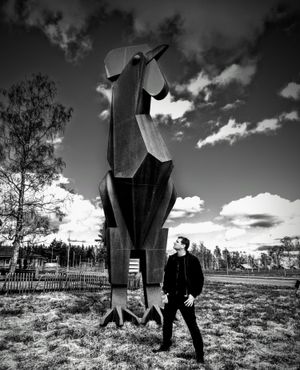 ********************** 
If you've enjoyed this blog post feel free to share it!
I really enjoy blogging and if you really enjoy it too you can always 'buy me a coffee' by clicking on the button below! 
And while you're here, have a look around my website and find out more about what I do!