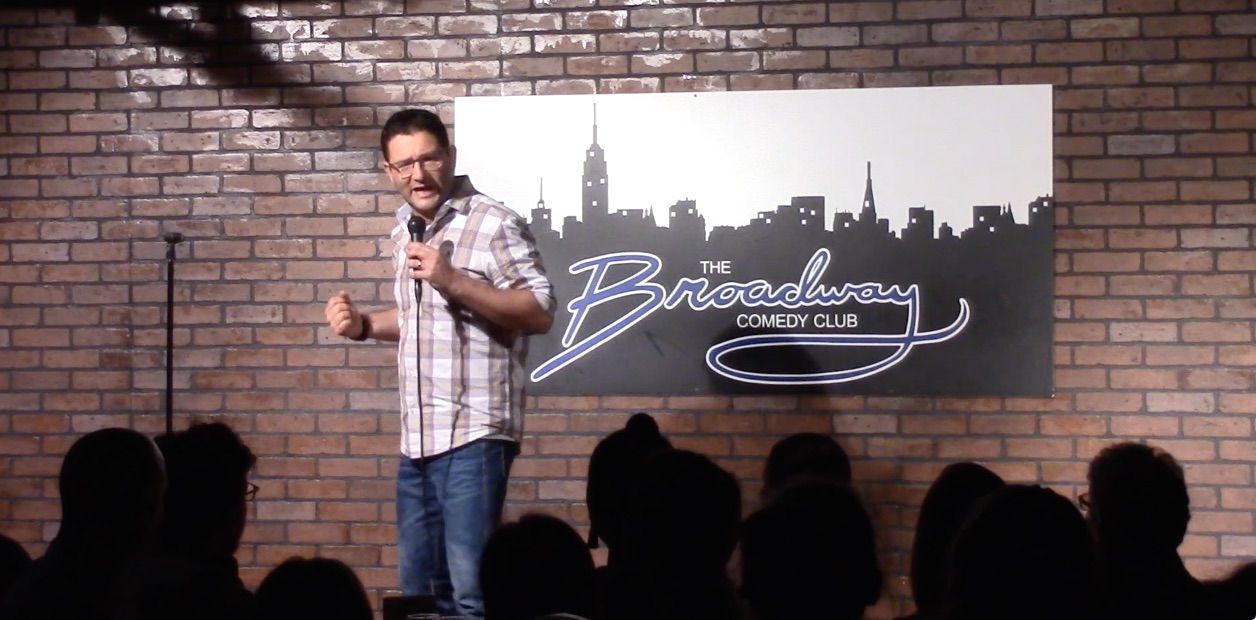 In the early 2000's I went to see the brilliant, pranksterfly rap artist Chilly Gonzales at the Scala in King's Cross, London. One of the best live acts I've ever seen, here was a Jewish Canadian rapper who lived in Paris and Berlin, performing in London. But what he told us that night was simple: 'Take me to Broadway, take me tonight' 
He dripped with sweat in his velour tracksuit under a pink dressing gown, towel wrapped around his neck, boxer style, while the artist Feist bounced along in a green swimming costume and sparkly heels. The message stuck in the crowd's head, ringing in our ears as we caught the tube home that night: Take Me To Broadway. 
.......
And if I ever get there get there 
I'm gonna show my chest hair, chest hair 
So Take Me To Broadway 
Take Me To Broadway 
Take Me To Broadway, I'm ready to fight
......
I love the crowd, I hate the crowd 
I constantly constipate the crowd 
No shit - Chilly put the ants in your pants 
Aw shit just to put you in a trance 
No I don't wanna make you bounce 
I wanna be loved and hated in equal amounts, ah 
Where? 
In the home of the showman, home of the shaman, home of the she-man 
Home of the comedian, home of the vaudevillians with opinions by the millions 
......
I gotta get my prank on, prank on 
And hit 'em with a sad song, sad song 
So Take Me To Broadway 
Take Me To Broadway 
Take Me To Broadway, do it tonight
......... 
This time last week. I was there. New York. At a stand up comedy club. And I was doing Broadway.
As New York debuts go it wasn't bad. Even if, as the events of the night panned out, I managed to get myself banned from the club for life, and if the words of the guy running the place hold any water, I would never play New York again. That's right. I would no longer be welcome with my act in any of the Five Boroughs. Goodbye New York, I can now only set my sights on being big in New Jersey and who would ever do that?
My crime? I went over time, I riffed. That was the first offence, but the killer was that I was unrepentant. And when you do wrong at Broadway, you'd better repent, Buddy! 
After the gig the self proclaimed Baronet of Broadway confronted me, fishing for an apology. I pointed out that nobody had died, and that the world was still spinning on its axis. We would all be OK. Running over time, did not really matter in the great scheme of things. 
Apparently it did. He fixed his eyes on mine, and used that earnest tone that some Americans can do so well. He said, with no irony in his voice "I want you to look deeply, in your heart of hearts, and tell me that you are sorry for what you did tonight."
I held his gaze and said in a voice drenched in irony, that to his American ears would have sounded irony free "I have searched profoundly within my soul, deep in my heart of hearts, and my conclusion is that I have nothing to apologise for"
Too much. 
"You will never play here again. I will see to it that you never play in New York again. You are dead to me"
......
I have a plan.
I will return. Apply for an open spot under a false name. Arrive wearing a cunning disguise - a wig and sunglasses, perhaps - and then I will perform there again one day. Maybe next year, maybe in five years, but I will be back. It could be anytime, so from now on, you'd better watch out for me, Broadway, because I will appear onstage when you least expect it.
And when I get on that stage, I will be Pranksterfly and I will not leave until they drag me off and I will be singing, at the top of my voice:
"Take me to Broadway, take me to Broadway, take me tonight"
********************** 
If you've enjoyed this blog post feel free to share it!
I really enjoy blogging and if you really enjoy it too you can always 'buy me a coffee' by clicking on the button below! 
And while you're here, have a look around my website and find out more about what I do!