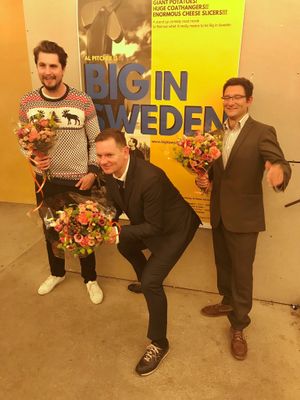 Last week, on Thursday, we had the first public screening of our film Big In Sweden. It was as close to a red carpet event as you can get. There was  fizzy water instead of champagne (that's Sweden, for you), but it actually felt relatively glamourous. I was suited and booted, Al wore his suit, but forgot the shoes, so had to wear trainers, and Gustav wore a rather fetching Xmas sweater with a pair of moose on it. None of had make up, were sponsored by Prada, or had our hair styled for the event, but I think inside we were all Hollywood. 
Variety magazine didn't turn up, but we did do a short interview for SVT local news. (After news about a bomb) 
Weirdly, or not, I was pretty nervous on the day. About an hour before, the realisation that unlike a live show, once the projectionist started the film, there was nothing you could do to change things. When you perform live, if there's a dip, or the audience aren't with you, you can always change tack, speed up or do something completely different. But with the film all we could do was watch and listen to the reactions. 
The lights dimmed, and the film started. Over two years of work, from the initial idea in early 2017, to filming a pilot that summer, to hitting the road and heading north between May and June of 2018, to editing, mixing, grading and adding a soundtrack. Two years of work condensed into 60 minutes to be judged, enjoyed or hated by a Thursday night Norrköping audience, high on free fizzy drinks and posh crisps. 
Then the first laugh came, and the second and I think the audience were gripped. More laughter, tension, and at the end applause.
Enough to know that all the work has been worth it and that this is a film that people like, that's entertaining and might even make people look at Sweden, comedy and even potatoes in a different light. 
Thank you to everyone who came along! 
Thanks also to Cnema and Norrköpings Filmfond, Film i Öst, Region Uppsala, Volkswagen, ICA in Östra Husby, Mannersons and Reventia AB
********************** 
If you've enjoyed this blog post feel free to share it!
I really enjoy blogging and if you really enjoy it too you can always 'buy me a coffee' by clicking on the button below! 
And while you're here, have a look around my website and find out more about what I do!