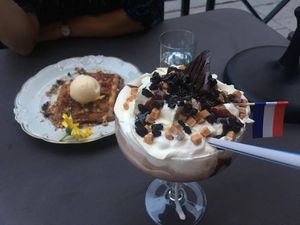 I'm back in Linköping after a couple of weeks in England. And last night we went out in town, which after the hustle and bustle of inner city Birmingham, metropolitan London and actually, come to think of it, even rural Cornwall and leafy Stratford and Cheltenham*, Linköping seems very quiet. 
Went to a new restaurant in town called Le Borgate, which is trying a new concept for Linköping of delicious food AND friendly staff..... Not sure Linköping is ready for this.... And then I topped off the evening with a Beershake at De Klomp. That's right it is as indulgent as it looks. 
So... Sort of getting back into the swing of things. Half working today (procrastinating with a blog) and getting ready to get stuck in to a film project, a book project and planning for the Linköping Comedy Festival 2018. 
In the meantime, enjoy the picture of my beershake!  
*OK, we packed a lot in over two weeks