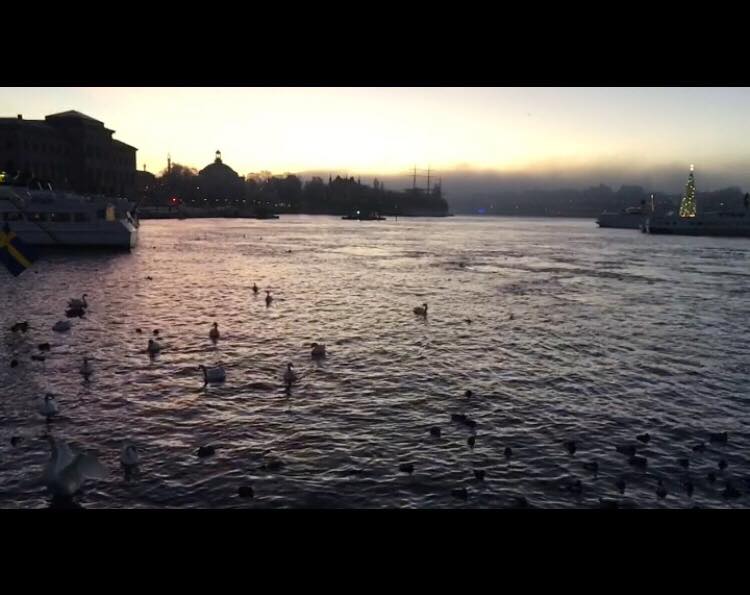 It's been a decent start to 2018. The first 'week back at work', that week that looms over the holidays like both a gruesome spectre and a beacon of light, has involved three pitch meetings and two voiceovers. It's almost like having a proper job!
Wednesday morning was one of those beautiful, crisp, blue sky days in Stockholm. As the day breaks on days like this over Stockholm's beautiful cityscape, it's impossible not to have a spring in your step and a smile on your face; cheeks reddened by the cold air. I was also off to meet Al to pitch an idea that we've been juggling with for the last year or so. The production company where we were meeting was on the top floor with views of the city, lots of glass, smily people and dogs... There's always dogs at production companies. 
Long story short. The pitch is already a few steps into the SVT machine. This means nothing, of course, but at the same time, it means everything. So the next step is to make a pilot. Snabba puckar, as they say in Sweden, let's get things moving.
"We film at the beginning of February, first draft next week. Let's go!"
That's the way it goes, decision made and kick into action. The joy of working with private companies. I like it.  
The next day, Norrköping and a different game entirely. A meeting in the heart of the Industrial area, a part of town that buzzes with creativity. Cheese sandwiches, fruit and coffee at Cnema for a pitching meeting with a representative from the Swedish Film Institute. Myself, Gustav and Al trying to act cool and sell our film idea to the Swedish establishment. The pitch went well. Dare I say, positive. But this was a very different kettle of fish. The film konsulent made it clear that there was due process, steps to follow, rules that needed to be adhered to. She played her poker face would give nothing away until we had filed an official application. 
This was followed with a pitch for Norrköpings Filmfond. A minnow compared to SFI, but a minnow that we want to work with. Again, there was a process to follow and again, we came away from the meeting with smiles on our faces, but with nothing concrete other than the invitation to make an application. 
So it's been a couple of fast moving days for the moving image and the impetus to keep moving forward.  
********************** 
If you've enjoyed this blog post feel free to share it!
I really enjoy blogging and if you really enjoy it too you can always 'buy me a coffee' by clicking on the button below! 
And while you're here, have a look around my website and find out more about what I do!