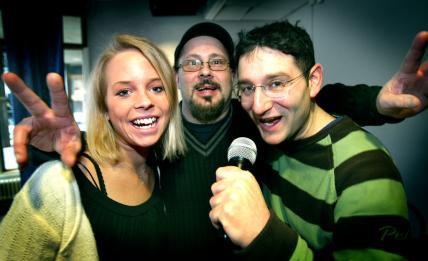 Ten years ago, I got together with Kjell Nyholm and Jessica Karlén, a couple of comedians from Kisa and put together the first ever LKPG HA HA! at Nationernas Hus in Linköping.  
I thought the anniversary was today, 8th February, but when I checked the calendar, it was more likely the 5th. Nearly got the date right. It was a long time ago.  
It's been a long, uphill struggle trying to produce stand up in Linköping and there's been a few peaks as well as lots of hurdles but this is how it all started, back when we were young(er) and better looking and in the case of Kjell, still alive. 
In the summer of 2007, I got it into my head that I should try and do some stand up comedy in Swedish. There was an open mic at L'Orient which was probably as diverse a night as I've ever been to - Performances on cello, the ubiquitous Kurdish singalong by the pub's landlord Sami, truly awful guitar playing and singing, painfully overlong self indulgent poetry, a guy performing a Yoik (which is a bit like watching someone having a seizure) and me doing a couple of minutes stand up in Swedish.  
Later in the summer I did a spot at Big Ben, squeezed my way onto the bill of a show called 'Fyra Blattar är mer än Två Svennar' with Zinat Pirzadeh, and then just before Christmas, got a spot at a night called Comedy Wood in Kisa at Kisa Wärdshus. It was run by local comedian Kjell Nyholm who had the catchphrase 'Jag heter Kjell, jag är fet, ful och fyrtio-fem'.  
Audience wise the gig was awful. Live entertainment was scarce and a rarity in Kisa, but what Kjell hadn't planned for was that there would be a bikini fashion show the same night at the town's other pub. Pretty much the entire population of Kisa opted for the chance to see attractive moving, walking, talking women that they had previously only ever seen on the internet and magazines. The chance to see a lady with all her own teeth was too much!
I think it was one of those gigs where there were just as many in the audience as the number of people who stood onstage. From Stockholm - Janne Westerlund, Svenne Brundin and Laszlo Gölles. Then there was me, Kjell and a 17 year old Jessica Karlén. Nowadays, Jessica travels the world with a ukulele and hangs out with (if Instagram is anything to go by) the bold and the beautiful. Jessica of 2018 is tattooed, philosophical and battle scarred with tales of the road. Back in 2007 she wore a woolly jumper and looked like the personification of small town wonder and naivety.  
In short we decided to start a club in Linköping. Jessica disappeared off to school, and Kjell and I would have phone conversations where I would understand less than a quarter of what he was saying as he let rip in one of the strongest Kisa accents imaginable. 
I booked Nationernas Hus and the date was set. I think it was probably Jessica's idea, but we decided to wear glamorous clothes for the premiere. Jessica looked great. I wore my Saville Row Tommy Nutter three-piece suit and Kjell had promised to turn up in his work clothes. Kjell worked as a grave digger/funeral clerk at the church in Kisa, so work clothes could have meant muddy trousers and a spade, but fortunately he went for the suit that he wore at the services. A morbid black number with tear stains and make-up on the lapel where many an old woman of Kisa had found a shoulder to cry on following the burial of her late husband.
I think we got in about 150 people on the first night. If I remember correctly, the line up included Bisse Linder, Patrik Johansson, Palle Strömberg, Danny Hydén, me, Kjell, Jessica and the headliner Jörgen Sjöberg. What a night. 
I remember Kjell's routines - His jokes about having bad eyesight - Such as: 
"My eyesight is so bad I need contact lenses to see as far as my glasses.."
and
"I'm not saying I've got bad eyesight, but I've got a bifocal windscreen on my car."
Good jokes. 
Jessica had some routines about waking up next to Shrek and her notorious 'Jekkika' set. 
I probably did some jokes about Willys and Plopp. And something about learning Swedish from a phrasebook from the 1940s. Old faves. 
We learnt that Kjell was NOT good  with numbers and probably shouldn't be in charge of the money. That Jessica knew lots of people in Linköping. And that the people who worked at Nationernas Hus were 'difficult'. 
I remember that Jörgen was brilliant - And a nice chap too.
Ten years have gone by. The world has changed. Stand up has become bigger in Sweden. It's more factional, for better or worse.
The way people go out has changed too. Back in 2008 was pre-smartphones, so there were fewer photos around. Facebook was new and a novelty and you could you could genuinely get some hype behind something before it got complicated by algorithms and the young people giving up for image only media like Snapchat and Instagram. 
But it was an exciting time.  Stand Up had a buzz and we never saw mousetraps, just free cheese and a fucking challenge*
Ten years on and I've put on hundreds of gigs in Linköping and brought hundreds of comedians to town. So where next for LKPG HA HA!? We'll see.... There's the comedy festival next week (Buy your tickets here) and then we'll see what happens. After all, next year, I'll be fet, ful och fyrtio-fem. 
Picture from the first ever LKPG HA HA!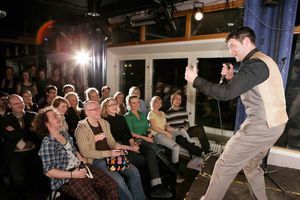 ********
*To misquote Scroobious Pip 
********************** 
If you've enjoyed this blog post feel free to share it!
I really enjoy blogging and if you really enjoy it too you can always 'buy me a coffee' by clicking on the button below! 
And while you're here, have a look around my website and find out more about what I do!