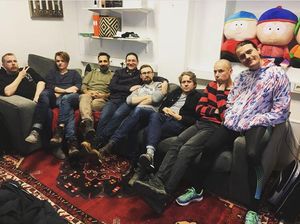 I was up early this morning to be on AMK morgon. 
AMK is phenomenal. And I mean that in every sense of the word - The very fact it exists is remarkable and fantastic. It's been controversial, it's changed form over the years and yes, there are plenty of people who hate it. But there are plenty more that follow it avidly. A potted history is that AMK started as the weekly podcast Alla Mina Kamrater which grew and grew. It then became a morning show and seemed unstoppable... until the morning that a drunk Kringlan Svensson appeared as a guest and verbally and metaphorically smashed the place up with an axe. Less damage may have been done if they'd have just handed him a real axe.
The group disbanded and from the ashes, Martin Soneby rekindled the AMK firebrand. Using crowdfunding - mainly via Patreon, he created one of Sweden's most popular morning radio shows. And last summer, with a move to their own studio, the pod became fully independent, answerable to nobody. 
This morning was the first time I've been on the show. I got there for the last half hour. Just finding it is one of the coolest things about it. Walking through the snowy streets of Södermalm, following Google Maps in my headphones. The 'You have reached your destination' beep came and there it was, a glass fronted shop with a bunch of comedians sitting round mics and having a laugh. 
What's nice with stand up comedy is that you see some people regularly and others you see less often, but there's always a sense of camaraderie. Here was a group of blokes (yes.. all blokes.. but more of that at the end) who I knew, liked and that made me laugh. And it was fun. I got to plug the comedy festival (buy your tickets here) and the conversation ebbed and flowed about all sorts of other things too. Thomas Eriksson was very funny as usual. Marcus Thapper had some great references to Ljungsbro outside Linköpng; Petter Bristav was on form, as was Robin Berglund (who I met for the first time) - Ola and Isak were there fresh from the Aftonbladet studios where they'd been plugging their show Quick (In Linköping 17/2) and they were their usual charming and witty selves. And Martin Soneby held the whole thing together with in his own acerbic style. The whole thing was great. I doff my hat to Soneby with respect and admiration! 
You can listen to the episode here. I appear in the last half hour or so.
Over the years, the podcast has got into trouble for various things - Most recently, Janne Westerlund threatened to sue them for defamation. (In Swedish legal terms 'sue for defamation' translates to: 'attempt to garner as much publicity as possible) - Today was no exception and the show picked up a small amount of bad social media as the guest list was all male, all white. In fact someone even photoshopped the picture to bring home the point. See below. 
Fair play. Good point, well made. But despite he criticism, I still think that AMK morgon is both a phenomenon and phenomenal. Thanks for having me Martin!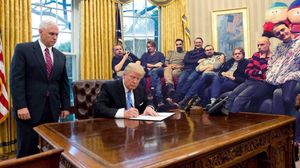 ********************** 
If you've enjoyed this blog post feel free to share it!
I really enjoy blogging and if you really enjoy it too you can always 'buy me a coffee' by clicking on the button below! 
And while you're here, have a look around my website and find out more about what I do!