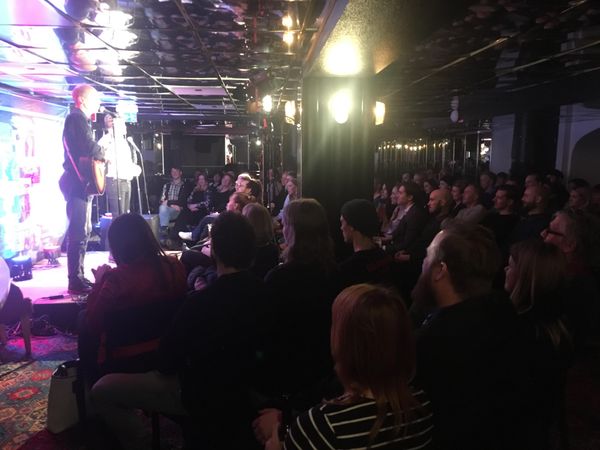 So that's Linköping Comedy Festival over for another year. Thank you to everyone who made it possible: Audiences, comedians, techies, staff at Frimis and sponsors, Visit Linköping, Botrygg and Mannersons. 
It was a smaller, more intimate festival this year, but was weirder and more wonderful for it. No big stars, but shows that covered subjects that aren't perhaps what fit into the mainstream - Evelyn Mok's vagina, Thomas Quick (Sweden's 'worst' serial killer) and Sandra Ilar's full on assault on political correctness. Plus we had a kid's show and a pretty impressive showcase of local comedians.  
I enjoyed the day a lot more than the build up, most of which felt a bit like swimming through mud trying to deal with the sum of Linköping's various parts. I'm more convinced than ever that Linköping probably just 'isn't that sort of place', despite the brave (and possibly deluded) aim of becoming one of Sweden's top three cities for events. 
Still, the festival got a decent crowd and the audiences enjoyed the shows loads, which I did too. So well done you, if you were there - audience and comedians - We did it. Thanks for making it happen!
********************** 
If you've enjoyed this blog post feel free to share it!
I really enjoy blogging and if you really enjoy it too you can always 'buy me a coffee' by clicking on the button below! 
And while you're here, have a look around my website and find out more about what I do!