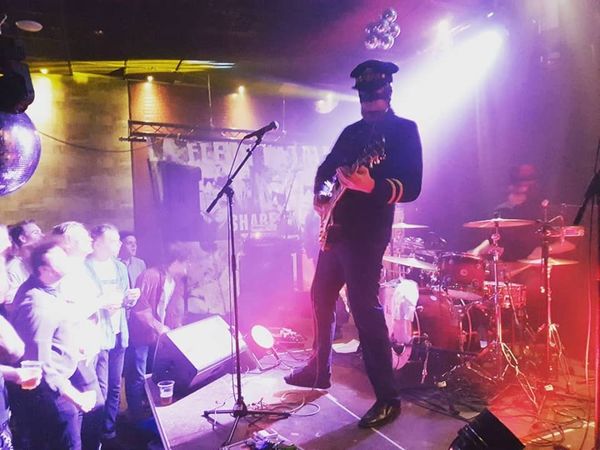 On Saturday night, I was back at The Crypt to do a short set as part of my friend Gustav's birthday celebrations. The Crypt has the potential to be one of the nicest venues in Linköping, if it weren't for the owners ability to piss everybody off, so hats off to Gustav for putting on an amazing show. 
Every comedian has a secret fantasy of being a rock musician, but riffing jokes was always easier than learning the bass. So getting this close to the action is almost living the rock and roll dream. 
The night started early in true rock and roll tradition with hamburgers in the company of the bands - La Fleur Fatale and the unmasked members of Märvel. Not sure how much of a secret their real identity is, but they were very friendly and dare I say it, even a little bit fluffy, unlike their rock and roll stage personas. 
I did my set before La Fleur Fatale - Doing a gig for a standing audience who are there for live music is always a bit of a no no. But I think it went well. The jokes landed and I had them with me .. But not an ideal setting for stand up. They laughed in all the right places at least! I was slightly upstaged at the end of my set with the arrival of a fully dressed hockey referee who was the night's nominal bouncer. 
My set done, it was time for music. 
La Fleur Fatale played a blinder of a set - I've only ever listened to them on Spotify before - And watched their film The Second Wave (Available here in YouTube) but live, I have to say they were brilliant. 
The second band Märvel were also great, they tore the roof off the place, with some proper rock n' roll. Check them out here 
So at the end of the night, still a bit tired after last week's flu and knocked out by two beers and being up later than midnight, I stumbled home, then fell into bed with the joy of a proper night of live music ringing in my ears. 
Thanks Gustav for a great party and Happy Birthday! 
********************** 
If you've enjoyed this blog post feel free to share it!
I really enjoy blogging and if you really enjoy it too you can always 'buy me a coffee' by clicking on the button below! 
And while you're here, have a look around my website and find out more about what I do!