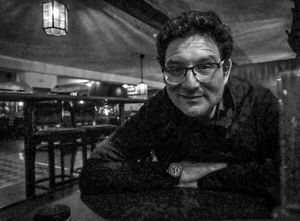 Corona. It's here. It is amongst us. And like every other non-expert out there, I don't really know what to do other than follow official advice. 
As the saying goes - Plan for the worst, hope for the best  - By which I mean, yes, I have bought rice and toilet paper, and yes, I am also washing my hands like Lady Macbeth with OCD. 
Then comes the question of gigs, concerts, events …
I put on comedy events - In essence, I am a professional at squeezing lots of strangers into badly ventilated spaces. I grant you, it's more complicated than that, as you need sound, light and one or two tellers of jokes, but in essence, that's it. 
As it stands today, the gigs that I have left this season are all still on. They are happening. The official Swedish government statement is that gatherings of 500 or more are no longer permitted. But I am expecting this to change. 
The effect on the industry will be serious. Not just for the immediate economic impact of having to pay back all the tickets that have been bought, but also everything on the periphery - Rent for venues, folk that do the tech, rip the tickets, clean, the hotels, pubs, restaurants just to name the most directly affected. 
My club gigs are all around the 100 mark and at the gig that I put on last week with Henrik Nyblom (The day the government announced the 500 cap on attendance), there didn't seem to be any difference in numbers. In three weeks time, I've got another club gig. I'm waiting to see how the government's advice changes, but even if it isn't cancelled, it remains to be seen whether people will still come along.  
But I am also planning some gigs for the summer; gigs that should pull crowds of several hundred. It's extremely difficult to look at these gigs right now and know what the situation will be like in two or three months. I don't know.  Nobody knows. Everything seems very up in the air. … But unless I do the planning now, these events definitely won't happen. And if by June, Corona is just a bad memory, and I haven't done the work,then I'll have nothing on my plate. If Corona is still doing its thing, then I'll have nothing anyway. 
Loads of freelancers, especially comedians and musicians are crossing out gig after gig in their diary. As live performers, we rely on creating the perfect atmosphere for viruses to spread. Bacteria love the blues, a virus loves the same seedy, close contact vibe as you do, baby.  
Is there anything we can do? Yes. Wash your hands. Self-isolate if you are infected, or think you are infected. 
Will I survive? Yes? Will my business survive? Yes.
Will every small (or large) business survive? No. Definitely not. 
To save myself from spending all day watching worst of Twitter,  I've also been trying to think of ways to support smaller artists I know. So here's a few suggestions:
Listen to more smaller artists on Spotify. Income is minimal.. but I'm sure a few extra $$ would be appreciated on the quarterly payout. 
Here's some links to people I know and like - Ola Aurell (In Swedish), Rob Lewis (My cousin, keep it in the family), Post Pines (Who did the music for Big In Sweden) 
 
Buy a book or two. If you are going to be self-isolating, then you might as well do some reading too. 
My friend, Liz Hyder wrote Bearmouth, a great book for young adults last year. Buy it. She's most likely had a few live events cancelled 
 
Buy people's services remotely. Pete Fraser is a session musician who works remotely. Or Mitch Hiller will produce, arrange and play. 
 
Buy Merch. Here's a link to Linköping record label Gaphals
 
Support creative people. Consume what they have produced on YouTube or online and if there's a chance to pay them, do so, if it's via Patreon, Kickstarter or like me, you can buy me a virtual coffee (Yes that was a hint!) 
 
Buy from local shops and restaurants. Support small local businesses. They will take the biggest kicking and work with the smallest margins. 
 
And when this is all over.. Buy tickets! Watch live music, comedy and entertainment! Support your local artist! 
Any other suggestions?

 
********************** 
If you've enjoyed this blog post feel free to share it!
I really enjoy blogging and if you really enjoy it too you can always 'buy me a coffee' by clicking on the button below! 
And while you're here, have a look around my website and find out more about what I do!