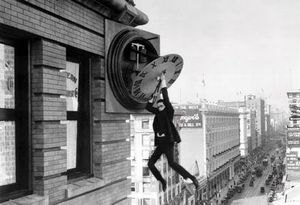 First things first.. why is your company and site called Safety Last? 
Good question - It is partly because I want to appear to be a little bit gung-ho as if safety is the last of my concerns ... did it work? I mean nothing says slapdash attitude to safety like blogging. So if you have fallen for the shallow explanation, then stop reading here and I can let you keep believing. 
The truth is that the name is a dedication to one of the heroes of the silver screen, Harold Lloyd. As a kid his films were shown on BBC 2 at 6pm everyday. I used to love them. Lloyd was a great innovator in silent comedy and his nice guy in the straw boater who always smiled his way through, warmed the cockles of my heart…
Here's a little clip from the film 'Safety Last'. This is the most famous and iconic scene in the film. You've probably seen it before, but take five minutes and watch it again. Remember Harold Lloyd performed all his own stunts ... Also remember, that I do not perform my own stunts - I don't even perform anybody else's stunts.