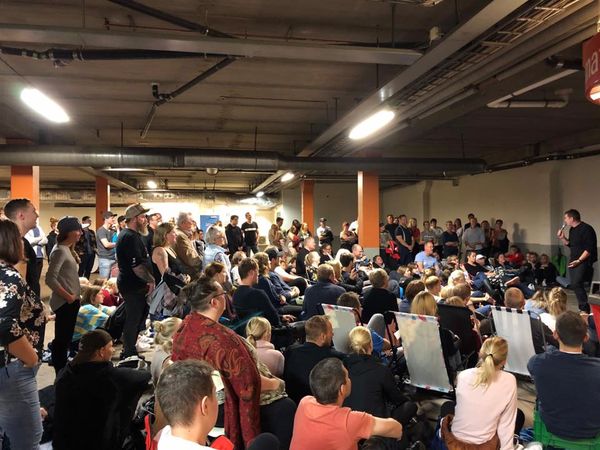 A couple of Sundays ago stand up comedy in Linköping went underground. Well, into an underground carpark at least. 
The original plan was to put the show on with the audience lounging around on picnic blankets outside Stadshuset, sipping white wine and eating egg and cress sandwiches in the evening sun. But as we know the weather has always been a cultural Philistine
Yes. This was a protest. A peaceful protest using stand up comedy, but there was an angry, frustrated message at its heart. The point was to show that the local kommun have really messed up in the last few years. I understand, it's complicated and that this is Sweden, so at the end of the day no single person or organisation could possibly be responsible. However, amongst those people in Linköping who have the skills to create entertainment, be it music, dance, theatre or stand up, there is now a sense of frustration that there has never been before. And the solution is so simple yet out of reach due to the Kafka-esque nature of the kommun (I'm aware that referencing Kafka may be too artsy for many of the politicians who work with culture - Later there's even a Gil Scott Heron reference) 
The point is.. All that's needed is a simple workable venue that's accessible. Nothing more fancy than that. . And that was what that rainy Sunday night was all about. A peaceful silly protest to show that there is a an audience for mid-size events, but nowhere for those events to take place. 
I also get it that this is the story across Sweden, but the situation in Linköping for live entertainment has been getting worse and worse over the last few years. Fine. But not all cities have stuck rigidly to the official line of having the desire to become Sweden's third biggest event city. Yes, folks, it's true
And yes, this is a pattern across all big cities. If you run a pub, it's cheaper and easier to buy some screens and show sport, rather than deal with having the right permits, or dealing with the unpredictability of acts either bringing 250 people or 15 people to your venue. I get it. In other words, the private sector won't take the risk, which leaves the public sector, the kommun.
Local creatives either stop working or just leave town, But the thing is, Linköping has got a whole LOAD of great venues owned or part owned by the city, that for one reason or another, just aren't being used to within a fraction of their potential: Backstage, Skylten, Dansens Hus, Gamla Linköping, Sagateatern, Östgötateatern, Arbis. With a few small changes, they really could be dynamic, happening places.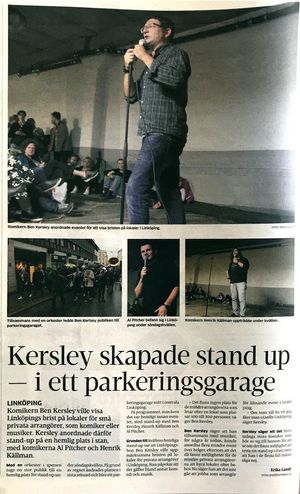 So back to Sunday and the peaceful comedy protest. 
The weather was not onside, and rather than the late summer's day that I had in mind, there was a grey cloud and a steady but solid blanket of rain. Sitting in the cafe looking out at the rain drenched square, I thought we'd be lucky to get 20 people, but as 7 o'clock approached a trickle of people turned into a throng sheltering under the roof of the shopping centre. 
On the hour there were somewhere between 150-200 people, huddled under umbrellas and clutching foldable chairs and blankets. The lawn of Stadshus would be too wet and the small roofed area I had in mind would be too small. There was only one option left - The car park. 
One minute past seven and I gave the signal for my trusty band of seventeen seventeen year olds, or Brureband, as they prefer to be known, to kick off with a funky brass medley. I took my rope and gathered up ten or so waiting punters and began to lead them up the hill of Storgatan. The band followed my lead, not knowing where we were going, but playing with funky gusto. Like a sopping wet Pied Piper we paraded up the hill, but instead of rats, it was rain soaked comedy fans. Up the hill, round the corner and into the empty car park. 
At the far end, Henrik Källman had set up the speaker, and Al Pitcher, the surprise headliner, was hiding himself behind a pillar. The audience needed no prompting, no real guidance and formed around the makeshift stage. Chairs unfolded, blankets laid out and a collective unspoken decision was made to ignore the smell of piss. The show began. 
The acoustics in a car park are terrible, the lighting is nondescript, but nonetheless we delivered an hour or so of damn good stand up in the best venue that Linköping has to offer. Needless to say the secret headliner, Al Pitcher tore the place apart.  
People swished and left cash, there was a very generous donation from Botrygg/Michael Cocozza who is one of the few people with any power in town, who has even begun to start understanding the situation. 
So let's see what happens next - Will Linköping be known as the city where the best venue in town for independent shows is a piss stinking car park? Let's see. The audience is there, the money is there, even the venues are potentially there. We just need someone with a bit of clout to dare to make some small changes to the venues that already exist
The Revolution Will Not Be Televised, but it may take place in an underground car park. 
********************** 
If you've enjoyed this blog post feel free to share it!
I really enjoy blogging and if you really enjoy it too you can always 'buy me a coffee' by clicking on the button below! 
And while you're here, have a look around my website and find out more about what I do!