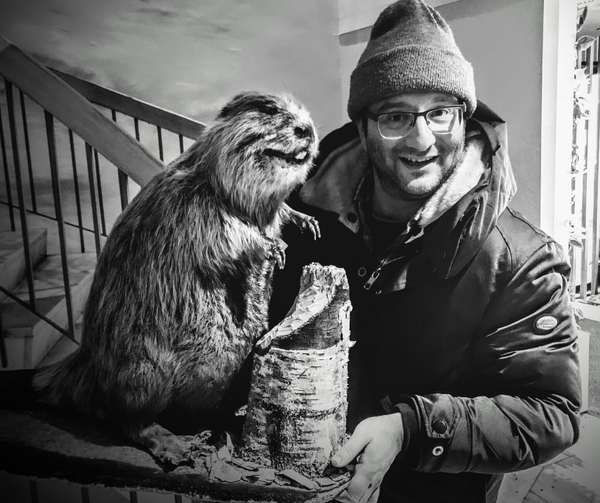 Here's a transcript of the event description on Facebook. 
1. Varför är det här på engelska? Linköping är ju i Sverige! Fy fan! 
The short answer to that is: Deal with it! The longer answer is a combination of 'Come on! Admit it! You love it when you get to read English. Besides you Swedes take liberties with English everyday anyway and it's very painful for those of us who speak English properly to see you say things like 'News' when you mean 'New', 'Yes Box!' when you want to say 'Yes Boss!' and why has nobody ever told you that 'Freebasing' means smoking crack and not 'freestyling' as you intend it to mean. But… När jag uppträder kommer jag göra det på svenska, OK? Lugnt. 
2. Hur fan blev det här projektet möjligt? 
This project exists thanks to the generous support of Linköpings Kommun, Kultur och Fritidsnämden. Thank you. Tack. I am aware that in the past I may have been less than complimentary about them. But that was in the past, and now that they have given me some cash, I would like to officially retract anything negative I may have said or written. In fact, I would now go as far as to say that of all the kommuns in Sweden, Linköpings Kommun is my favourite. Definitely. 
3. När kommer en vaccin så vi kan kolla på stand up live på en svettig källarlokal med andra konstiga främmande folk? 
I'm afraid I just don't have all the answers. 
4. OK Då…. Fortsätt bara 
Thank you and welcome to this project to find an audience for stand up comedy in Linköping at a time when it is not possible, morally, clinically or even legally to find an audience. 
I'd like to thank Linköpings Kommuns Kultur och Fritidsnämnden once again for the chance to try do this thing over next month. Again apologies for everything I've ever said in the past, but as you can see, I am easily bought (Take note, other sponsors!) 
I've set myself two target audiences: The virtual online world and the real, live, but socially distanced world with obsessively clean hands. 
Step one is that I will be doing some live tweeting (@benkersley) over the next few weeks as I wander around Linköping looking for a place to perform. I'll also be doing a bit of filming, making some short travelogue films about the different areas of Linköping - Any suggestions? What should I not miss in Lambohov? Any must sees in Ekholmen? Tweet me, or write something below. 
Step two I will attempt to put together some socially distanced comedy shows. I will publish dates very soon. These will most likely be  in parks or isolated spots in Linköping. (when put into writing like that, it makes me seem a bit creepy). These will have their own events on Facebook/LKPGHAHA… but as the whole theme of this is about keeping to the rules and not spreading the corona virus, for once, I am hoping not to attract too many people. 
I've got a few ideas that I'll be trying out.. Speed comedy, Arms Length Comedy, Plastic Bag comedy…The last of which may kill more people than corona. There's also the quite reasonable fact that most people are trying to socially distance at the moment, and to be honest, I am all for NOT spreading a deadly pandemic.I promise to follow the rules set out by FHM (That's Folkhälsomyndigheten, and not the men's lifestyle magazine FHM, known for features such as 100 Sexiest Women In The World and Get Paid To Play Call of Duty). 
So live audiences will be small, local and healthy. 
Most of these shows will be in Swedish, unless you come along and request a show in English. .. I'm open to suggestions and ideas.. And that's kind of the idea that this is a fluid journey of discovery. 
At the end of it all there will be some films. I'll write a longer essay and publish it to my blog and Medium. And also far, far ahead in the distant future when we can all hug and kiss and wrestle in jelly again, I will put together a live show for a real live, touchy, feely audience. 
That's it for now.. Watch this space. .. Updates here, on the LKPG HA HA! Facebook page, on my blog (safetylast.se/blog) and on Twitter (@benkersley)
********************** 
If you've enjoyed this blog post feel free to share it!
I really enjoy blogging and if you really enjoy it too you can always 'buy me a coffee' by clicking on the button below! 
And while you're here, have a look around my website and find out more about what I do!