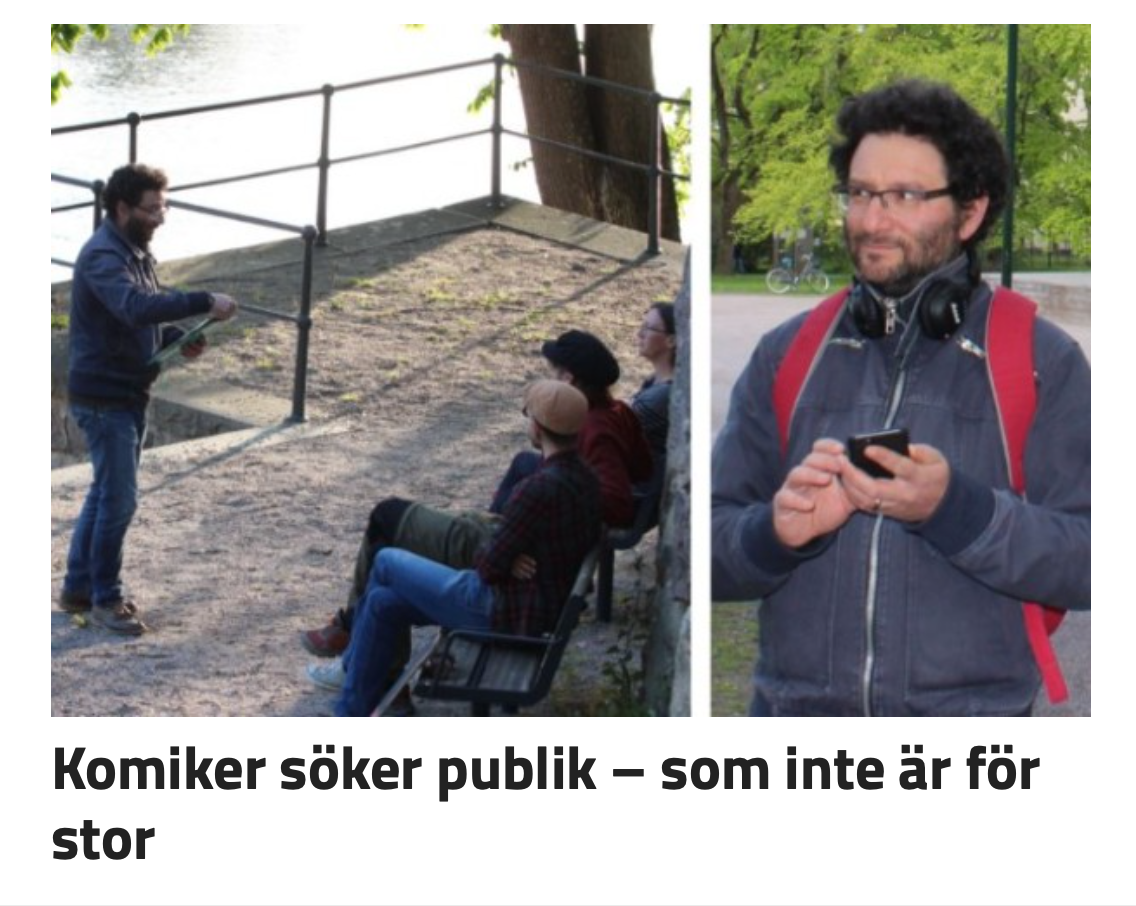 It's a few hours before midnight on the last day of 2020. Even though I don't really feel like it, I feel I need to force myself to write up a few things about the year that has gone, if only to have a record of what happened and to remind myself that even though many moments of 2020, it seemed like we were staring into the abyss, there have been quite a few highlights. 
I know a lot of people have had a truly terrible 2020 and on reflection, even though nobody has escaped what the Swedes have dubbed as a 'skitår' or a 'shit year', I have been OK - In terms of health, welfare and economy. So I'm not complaining, even though there's plenty to grumble about. This is more or less how my 2020 panned out. It involved Haparanda! Tel Aviv! Skänninge! … And lots and lots of Linköping…. 
I had big plans for the year in terms of putting on shows and doing some more writing and filming. At the end of January Al Pitcher and  I jumped on a plane to Haparanda. We'd been talking about various ideas of border towns and what the very far north of Sweden is like, so I got in touch with Haparanda's local mover and shaker, Stefan Täikkö and booked a gig at the Folkets Hus. You can't just pop up north, so we tied it in with a stay at a spa, a reindeer safari, and a sauna with the local mayor. And we saw the Northern Lights too. It was inspiring, energising, and a flavour of the way that the year ahead should have been. On the news there was some small talk of a virus in a Chinese city that we had never heard of. 
Our film Big In Sweden had been bought by TV4/C More, but I also had plans to show it in some of the places it was filmed in combination with some live shows. And on the first day of February we played live and on screen to a sold out audience in Skänninge - Home of one of the stars of the film - Ture Lång. It was good to be back in Skänninge (honestly) and it was a boost for the year ahead despite the idle chat about the growth of this virus in the Chinese city, Wuhan, that we had now all heard of. 
In early February, I jetted off to Tel Aviv for a week with my family. With the kids now older we had decided to have a cultural holiday rather than a sunny holiday and give the kids a taste of big city life in a very unSwedish place. We had day trips to the Dead Sea and Jerusalem for a crash course in the three Abrahamic religions with a visit to the Western Wall, the Church of The Holy Sepulcre and a view of Al Aqsa. We ate falafel and stood in the sea mist of the Med. We caught up with old friends and visited the Museum of Modern Art. Tel Aviv is an amazing place, cosmopolitan, culturally rich and multilayered. On the journey back, I felt inspired, energised and enthusiastic for all the opportunities that lay ahead in 2020, although I did notice that there was more in the news about this virus that was now shutting down more and more of China and South Korea, and that a few people at the airport had started wearing masks. 
The year was looking good for shows. I had a regular club night booked at the New York Legends bar in Linköping. Every gig was selling out and it was a joy to see people squeezed into a sweaty cellar again for comedy. Every gig there would be a few more jokes about Corona - First as a distant illness on the other side of the world, and then the jokes grew increasingly morbid as the reality became more and more local to Europe, to Sweden and to Linköping. Then in April, the inevitable happened and everybody started cancelling shows. Was this it? No more live shows, no more public gatherings, no more recognisable structure to society or economy? 
In the 'dark' months of spring, I did a few voiceovers and I put on a Zoom show called 'A Potscard from Sweden' which was fun despite/because it was zoombombed by some hardcore porn. I even got some money from Linköpings Kommun for the first time ever to put on some socially distanced shows in the park. Fun but weird trying to keep people at a distance and essentially NOT publicise the shows. 
In the meantime, I started working on a screenplay with Paddy Kelly. I won't write too much about it just now, but we're on the third draft and if you know anyone looking for a feature length road movie where Dansband meets Bollywood, please get in touch! 
In the summer, things with Corona seemed to calm down a bit and I put on a gig at Dahlbergs Cafe with Ola Aurell. Restricted audience numbers, but we did double shows, sold out. So I booked some more shows for September and did weekly shows in September with double and triple shows. Again, all sold out. The future of producing shows was starting to look a little brighter for the autumn. But then, as I was getting into the swing of things again, it all went a bit weird. First with New York Legends being shut down with immediate effect just a week before my autumn season was due to begin. Sabo at Palatset stepped up to the plate and the venue issue was solved and again there was a light at the end of the tunnel. Full of confidence I began booking more gigs. The government had even lifted the restriction from audiences of 50 to 300. The first week in November should have seen a double show in Linköping, a triple show in Mjölby and double shows in Västervik. But then things got serious again and overnight the audience limit was dropped from 300 to 8. I watched as the money from ticket sales entered my account and left my account again. Easy come, easy go. 
November and December have been dark and miserable,  which hasn't helped. However, I think things will be OK in the end.
I am grateful to Kulturrådet, Film i Öst, Visit Linköping and even Linköpings Kultur and Fritids who have been supportive financially.
I really think it's just a case of getting through this spring. Like being stuck on a long distance bus journey that seems to go on forever - monotonous and draining, but in the end you get to your destination and the drone of the bus is just a memory. Everything is going to be alright. 
Let's see how 2021 pans out. 
Happy New Year.
********************** 
If you've enjoyed this blog post feel free to share it!
I really enjoy blogging and if you really enjoy it too you can always 'buy me a coffee' by clicking on the button below! 
And while you're here, have a look around my website and find out more about what I do!