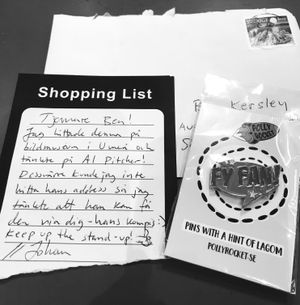 The other day I got some fan mail. I don't think I've ever had any fan mail before, not even fake fan mail from my wife, mother or children. So it was quite exciting to get a piece of fan mail through the old letterbox. Quite exciting indeed. 
Obviously, when I saw the handwritten address, my first thoughts were that the envelope was from some kind of psychopath and that the contents would be nothing but some deadly nerve agent. I'd already mentally written the headlines 'Unknown white powder found beside body of unknown comedian', and 'Comedian dies. Again'.
I opened it up and saw a little gift along with a hand scrawled note. Personal. From the heart, I thought. 
I skim read the note.
At the top, the words 'Shopping List' and at the bottom, the name '// Johan', hastily written just above where the note was ripped. Had Johan written a longer postscript expressing his love and admiration for me and then torn it away, embarrassed that he could be so passionately honest? Or had he felt so emotional and overcome by the desire to write to me that he had accidentally rent the paper in two? I may never know! 
I went back to the top of the note and read; this time more carefully, drinking in every word: 
'Tjenare Ben!' - 'Hi Ben' 
Informal, matey, greeting me like an old friend. Nice to hear from you Johan! 
'Jag hittade denna' - 'I found this' 
Something found, something lost.. Oh sweet serendipity, happy accidents! 
'på bildmuseum i Umeå' - 'at the picture museum in Umeå' 
Umeå? Well travelled. At a museum? Cultured. Who was he trying to impress? Johan! You already had me at 'Tjenare!'.. but please, go on… 
'och tänkte på…' - 'and thought of.. ' 
What did you think of Johan? Was it me? Was this little keepsake a Proustian madeleine that reminded you of me and whatever encounters we had had in the past, however fleeting? Tell me more! 
'Al Pitcher' 
Sorry? What? Al Pitcher? Al bloody Pitcher? Al? Pitcher? 
'Dessvärre kunde jag inte hitta hans address' - 'Unfortunately, I couldn't find his address' 
I'm not sure what this has to do with me Johan? I'm not sure why you are indulging me in your stalker fantasies? I've moved on Johan, and I think you should too.. .. 
'så jag tänkte att han kan få den via dig' - 'So I though that he could have it via you' 
Oh really, you thought he could have it via me, like I'm some kind of second rate postal service, for the passing on of small gifts from small uninteresting museums in somewhere in the north of Sweden. Is that it? Nobody's impressed that you went to a museum, Johan! It doesn't make you better than anyone. And so you've been to Umeå! What do you want? A medal? 
' - hans kompis : )' - 'his friend : )' 
Ex friend, Johan! Ex friend! Now I'm just a go between for the handing over of some cheap rubbish you found at some museum in some town somewhere. I barely know the guy. Al who? Never heard of him. 
'Keep up the stand up' 
I will, Johan. Thank you. 
'// Johan' 
All I can say, Johan, is that, if I'm perfectly honest, I liked you more the first time I read your signature. That's all, Johan.
Well… I happened to bump into Al Pitcher and he was very very happy to get the gift from Umeå. Johan, if you are reading this, he has promised to wear it every single day for the rest of his life. He even asked me to pass on a little message to you - 'Thank you and Fy Fan!'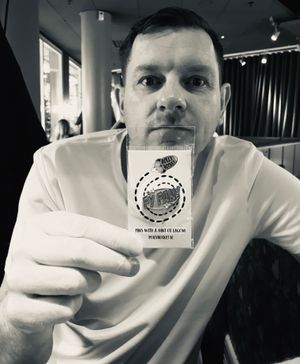 ********************** 
If you've enjoyed this blog post feel free to share it!
I really enjoy blogging and if you really enjoy it too you can always 'buy me a coffee' by clicking on the button below! 
And while you're here, have a look around my website and find out more about what I do!