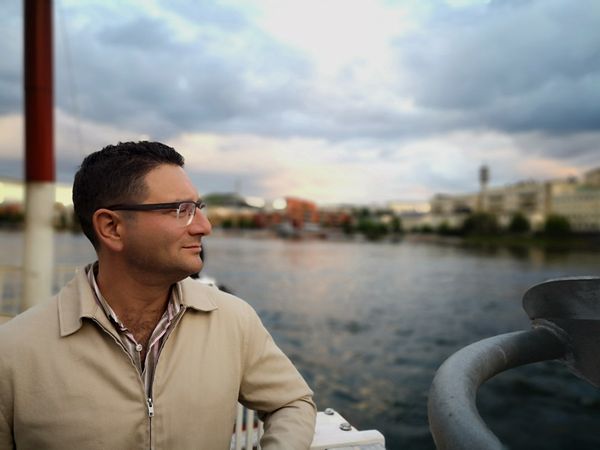 Woody Allen famously said that 80% of success is showing up. And he was absolutely right, as I almost found out thanks to a very close shave. 
A couple of weeks ago, I had a twelve minute meeting with a long table of TV execs. Twelve minutes. Twelve minutes to sell in an idea that I'd been working on for almost a year along with Al Pitcher and the production company Art & Bob. 
All the groundwork had been done: Scripts, outlines, pilot filmed, provisional casting, locations scouted and litres upon litres of coffee consumed. I just had to be there for the allotted twelve minutes. Show my face, do the pitch, give them the schtick. It was all there, a very strong pitch. 
Show up. Pitch. Twelve minutes. Be there.
And I nearly didn't make it .. it was a pretty close shave. Literally. 
That morning in Stockholm, I went for a stroll to walk off some of the nervous energy for that afternoon's pitch. I was in Södermalm, the pitch was at TV-Huset in Gärdet. I'd worked out the travel times, how long I had to gather my composure and give it the best shot. Everything was under control.
As I walked, I caught sight of myself in a shop window. I looked at my hair. A little unkempt, a little curly. Perfect. It'll give the impression of the tortured artist, who puts his writing above personal grooming. 
I walked past another window and checked my reflection again. A little too wild, perhaps. Although this is the look of a man who rejects social rules, a difficult artist, but with demons that are worth entertaining for the sake of art. The kind of thing they love down at SVT.  I should fit right in. 
Walking past a third window, I stared in disbelief as my reflection stared back. Who was this vagrant? This wild man who had given up on himself and no doubt spends his days shouting at pigeons, with only a mangy dog and a bottle of strong sherry for company. This hairstyle made a single, very clear statement: Self-neglect. 
I faced facts. I needed a haircut. 
Time was on my side. A nice clean haircut could make the difference I thought. I had just under three hours. This should not be a problem, I thought as I strolled in to a drop in barber and sat down to wait my turn. Vanity aside, this would take my mind off the impending pitch. Self indulgence is a perfect way to focus the mind.  
There would be a short wait, I was told as I chatted to the guy in broken Swedish. He with an Arabic accent from Tunisia, me with my ever so subtle British lilt. On the streets of Södermalm at least, Swedish is a world language. 
Ten minutes went by. No problem. I had time. 
Ten minutes became fifteen and after twenty minutes my guy was ready for me.
All good. The cape was thrown over me and velcroed up around the neck. I still had hours to go and it was quite nice to sit and chill out at the barbers. I sat in the chair, sank into the leather to relax into the sounds and smells of a barber from the Middle East and the kind of cut that I used to get when I lived in London. 
The snip snip snip started and I checked the time. Half an hour, tops, i thought. Perfect. 
Then the penny dropped that I was working with an artist. And my head of hair his canvas.  He worked his way slowly round my cranium, each hair individually measured, assessed and delicately clipped. He was like Michelangelo chipping away at a piece of marble. 
Short back and sides, graded and sharp and when he started on the top, nearly an hour had gone by. Starting to feel the stress. I asked him how much longer he would be. Just a little longer, I was told.
Hair done, it was time for my neck, shaved and rubbed with lemon scented alcohol. The ears, given the flame treatment, leaving them down free, and smelling of burnt flesh. The eyebrows, plucked. The nasal hairs, shaved. The sideburns, measured and squared off. 
The clock was ticking and I was getting more and more tense. I told him I needed to go soon. 'No problem. We'll just wash your hair'. I started telling him I just needed a rinse, but my cries were drowned out by the gushing of water and the bubbling of shampoo, conditioner, and a hot towel placed over my face. He pushed me back into the chair, which with the press of a button started to massage my back and my sides. 'Just relax' he whispered in my ear as the tension in my body rose with the stress of not being able to see the clock, to give me an idea of just HOW late I was going to be, by HOW many minutes I would miss those crucial twelve minutes for which we had worked so hard for almost a year… 
Finally it was over and I was ready to jump up and leave. To make a dash for the tube. 
'Gel or wax?' he asked. 
I threw off the cape, grabbed my jacket, and threw a note at him. 'Keep the change' I shouted as I ran through the door. 
Did I make it in time for the pitch? 
Out of breath and a ball of sweat.. But yes I did. 
Did I look like a well groomed, sultan of the sartorial? 
I most certainly did. 
Did SVT commission the pitch? 
You'll have to wait and see.
********************** 
(Photo: James McKie) 
If you've enjoyed this blog post feel free to share it!
I really enjoy blogging and if you really enjoy it too you can always 'buy me a coffee' by clicking on the button below! 
And while you're here, have a look around my website and find out more about what I do!